Showing
10
of 63 results for
---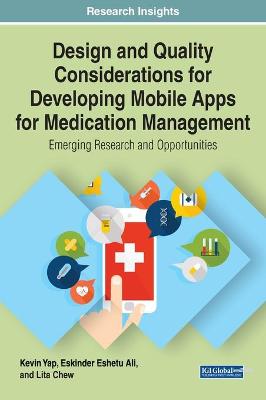 Presents research that combines theory and practice on optimizing strategies to improve medication adherence and overall health and wellbeing in patients through the design of usable and reliable mobile app-based systems. The book highlights a range of topics including pharmaceutical care, quality assessment, and health behaviour frameworks.
---
---
Focuses on robust and easy solutions for the delivery of medical information from patients to doctors, and explores low-cost, high-performance, highly efficient, deployable IoT system options in healthcare systems. The book includes research on topics such as hospital management systems, electronic health records, and bio-signals.
---
---
Presents research and potential strategies to prevent the emergence and re-emergence of drug-resistant pathogenic microbial strains. The publication's coverage includes biosensing, global initiatives, nanomaterials, and alternative therapies.
---
---
Examines practical applications of healthcare analytics for improved patient care, resource allocation, and medical performance, as well as for diagnosing, predicting, and identifying at-risk populations. The book highlights a range of topics such as data security and privacy, health informatics, and predictive analytics.
---
---
Explores new techniques, tools, and solutions that can be used in a global capacity to support women during pregnancy, childbirth, and the postpartum period, regardless of their wealth or location. The book covers a range of topics, including maternal care models, breastfeeding, and social media and internet health forums.
---
---
Provides alternative solutions for managing and treating chronic pain, including through the use of mobile applications, online programs, self-management strategies, and virtual reality. The book also promotes an understanding of pain and how it is diagnosed, and reviews pharmaceutical accountability when prescribing drugs for pain management.
---
---
Presents research exploring the role of AI paradigms and machine learning techniques in the development of SHIS. The book features coverage on a broad range of topics, including cancer diagnosis, personalized medicine, and smart healthcare.
---
---
Provides relevant theoretical and computational frameworks concerning the strategic role of nanotechnology and applications within oncology studies. The book features coverage on a broad range of topics, such as heredity immunity, radiotherapy, and alternative medicine.
---
---
Examines AI applications in medical imaging that can transform hospitals to become more efficient in the management of patient treatment plans through the production of faster imaging and the reduction of radiation dosages through the PET and SPECT imaging modalities.
---
---