Showing
10
of 13 results for
This book features various accounts of a cholera outbreak in West London that killed over 500 people in ten days during the late summer of 1854. What has become known as "the Broad Street pump episode" is one of the most significant early examples of team-oriented investigations into the causes of epidemic disease.
---
---
Provides an introduction to contemporary ethical issues in health care, designed especially for Canadian audiences. The book is organised around six key concepts: beneficence, autonomy, truth-telling, confidentiality, justice, and integrity. Each of these concepts is explained and discussed with reference to professional and legal norms.
---
---
Traces the history of medicine and medical practice from Ancient Egypt through to the end of the Middle Ages. Featuring nearly one hundred primary documents and images, this book introduces students and scholars to the words and ideas of prominent physicians and humble healers, men and women, from across Europe and the Mediterranean.
---
---
Provides a comprehensive introduction to the many ethical and legal issues that arise in the practice of nursing. Ethical analysis is supplemented with the rigorous discussion of precedents from the American legal system as well as the requirements of professional codes operating at the national and state levels.
---
---
Offers a case-based introduction to ethical issues in health care. Through seventy-eight compelling scenarios, the authors demonstrate the practical importance of ethics, showing how the concerns at issue bear on the lives of patients, health care providers, and others. Each chapter includes a selection of important legal cases as well as clinical case studies for critical analysis.
---
---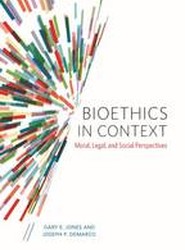 Too often, discussions of ethical issues in health care and medicine are detached from the legal contexts which guide the practice of health care providers. In this book, Gary Jones and Joseph DeMarco aim to connect ethical theory, medicine, and the law, guiding readers toward a practical and legally-grounded understanding of the issues.
---
---
Notable for its use of real document examples throughout, in addition to its central section's extended focus on narrative medicine and new media writing, Healthcare Writing provides a wide-ranging, much-needed contemporary interdisciplinary perspective on the modes and contexts of writing that are most pertinent to healthcare professionals today.
---
---
Healthcare writing audiences are diversifying, from traditional physicians and patients to administrators in government and insurance groups. Writing for these diverse healthcare audiences is the focus of this book, which has just enough theory to lay groundwork, plentiful examples to illustrate how theory is practiced, summaries that highlight key points, and realistic practice exercises.
---
---
A diverse and thought-provoking collection of case studies in health care ethics.
---
---
---