Showing
10
of 36 results for
---
"Fascinating and upbeat... Dr. Perry is both a world-class creative scientist and a compassionate therapist."-Mary Pipher, Ph.D., author of Letters to a Young Therapist
---
---
"The definitive social history of the medical profession in America....A monumental achievement."-New York Times Book Review
---
---
An award-winning science journalist pulls the alarm on the dysfunction plaguing scientific research-with lethal consequences for us all.
---
---
A trip to the doctor is almost a guarantee of misery. You'll make an appointment months in advance. You'll probably wait for several hours until you hear "the doctor will see you now",but only for fifteen minutes! Then you'll wait even longer for lab tests, the results of which you'll likely never see, unless they indicate further (and more invasive) tests, most of which will probably prove unnecessary (much like physicals themselves). And your bill will be astronomical.In The Patient Will See You Now , Eric Topol, one of the nation's top physicians, shows why medicine does not have to be that way. Instead, you could use your smartphone to get rapid test results from one drop of blood, monitor your vital signs both day and night, and use an artificially intelligent algorithm to receive a diagnosis without having to see a doctor, all at a small fraction of the cost imposed by our modern healthcare system. The change is powered by what Topol calls medicine's "Gutenberg moment." Much as the printing press took learning out of the hands of a priestly class, the mobile internet is doing the same for medicine, giving us unprecedented control over our healthcare. With smartphones in hand, we are no longer beholden to an impersonal and paternalistic system in which "doctor knows best." Medicine has been digitized, Topol argues now it will be democratized. Computers will replace physicians for many diagnostic tasks, citizen science will give rise to citizen medicine, and enormous data sets will give us new means to attack conditions that have long been incurable. Massive, open, online medicine, where diagnostics are done by Facebook-like comparisons of medical profiles, will enable real-time, real-world research on massive populations. There's no doubt the path forward will be complicated: the medical establishment will resist these changes, and digitized medicine inevitably raises serious issues surrounding privacy. Nevertheless, the result,better, cheaper, and more human health care,will be worth it.Provocative and engrossing, The Patient Will See You Now is essential reading for anyone who thinks they deserve better health care. That is, for all of us.
---
---
When EMDR was first published in 1997, it was hailed as the most important method to emerge in psychotherapy in decades. In the twenty years since, Eye Movement Desensitization and Reprocessing (EMDR) therapy has successfully treated psychological problems for millions of sufferers worldwide. In this updated edition, Francine Shapiro offers a new introduction that presents the latest applications of this remarkable therapy, as well as new scientific data demonstrating its efficacy. Drawing on the experiences of thousands of clinicians as well as a vast research literature on depression, addiction, PTSD, and other disorders, she explains how life experiences are physically stored in our brains, making us feel and act in harmful ways, and how EMDR therapy can bring relief, often in a remarkably short period of time. Applicable to survivors of trauma as well as people suffering from phobias and other experience-based disorders, EMDR is essential reading for anyone who seeks to understand why we hurt, how we heal, and how we get better.
---
---
A leading anthropologist studies the science behind "feeling at home" to show us how home made us human
---
---
When Trauma and Recovery was first published in 1992, it was hailed as a ground-breaking work. In the intervening years, Herman's volume has changed the way we think about and treat traumatic events and trauma victims. In a new afterword, Herman chronicles the incredible response the book has elicited and explains how the issues surrounding the topic have shifted within the clinical community and the culture at large. Trauma and Recovery brings a new level of understanding to a set of problems usually considered individually. Herman draws on her own cutting-edge research in domestic violence as well as on the vast literature of combat veterans and victims of political terror, to show the parallels between private terrors such as rape and public traumas such as terrorism. The book puts individual experience in a broader political frame, arguing that psychological trauma can be understood only in a social context. Meticulously documented and frequently using the victims' own words as well as those from classic literary works and prison diaries, Trauma and Recovery is a powerful work that will continue to profoundly impact our thinking.
---
---
There's a running joke among radiologists: finding a tumor in a mammogram is akin to finding a snowball in a blizzard. A bit of medical gallows humour, this simile illustrates the difficulties of finding signals (the snowball) against a background of noise (the blizzard). Doctors are faced with similar difficulties every day when sifting through piles of data from blood tests to X-rays to endless lists of patient symptoms.Diagnoses are often just educated guesses, and prognoses less certain still. There is a significant amount of uncertainty in the daily practice of medicine, resulting in confusion and potentially deadly complications. Dr. Steven Hatch argues that instead of ignoring this uncertainty, we should embrace it. By digging deeply into a number of rancorous controversies, from breast cancer screening to blood pressure management, Hatch shows us how medicine can fail,sometimes spectacularly,when patients and doctors alike place too much faith in modern medical technology. The key to good health might lie in the ability to recognize the hype created by so many medical reports, sense when to push a physician for more testing, or resist a physician's enthusiasm when unnecessary tests or treatments are being offered.Both humbling and empowering, Snowball in a Blizzard lays bare the inescapable murkiness that permeates the theory and practice of modern medicine. Essential reading for physicians and patients alike, this book shows how, by recognizing rather than denying that uncertainty, we can all make better health decisions.
---
---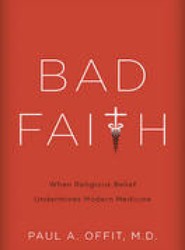 When Jesus said, "Suffer the children," faith healing is not what he had in mind
---
---