Showing
10
of 16 results for
The story behind Henry Markram's breakthrough theory about autism, and how a family's love led to a scientific paradigm shift.
---
---
The surprising, behind-the-scenes story of how our medicines are discovered, told by a veteran drug hunter.
---
---
---
Previously published: Vancouver: Nightwing Press, A2010.
---
---
---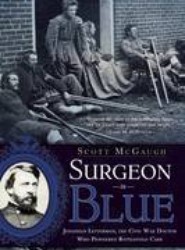 The first full-length biography of the Civil War surgeon who, over the course of the war s bloodiest battles from Antietam to Gettysburg redefined military...
---
---
Translation of: Une journaee particuliaere.
---
---
Thais is almost two. Like most well-loved children, she is happy. She laughs as she runs on the beach. But her footprints in the sand, with toes turned out, tell a different story. "Two Small Footprints in Wet Sand" relates the overwhelming tragedy experienced by a family as a result of a genetic disorder.
---
---
Translation of: Det reacker inte med kearlek. Stockholm: Wahlstreom & Widstrand, [2008]
---
---
A New York Times Best Seller!When Jonathan Letterman was appointed the chief medical officer of the Army of the Potomac, he revolutionized combat medicine over the course of four major battles Antietam, Fredericksburg, Chancellorsville, and Gettysburg. He made battlefield survival possible by creating the first organized ambulance corps and a more effective field hospital system. Confronting conditions of squalor, poor nutrition, and rampant disease that left 20 percent of the men unfit to fight, Letterman improved health and combat readiness by pioneering hygiene and diet standards.With stirring accounts of battles and the struggle to invent and supply adequate care during impossible conditions, Surgeon in Blue recounts Letterman's life from his small-town Pennsylvania beginnings to his trailblazing wartime years and his subsequent career as a wildcatter and the medical examiner of San Francisco. At last, here is the missing portrait of a key figure of Civil War history and military medicine. His principles of battlefield care are still implemented on today's battlefields and by first responders.Skyhorse Publishing, along with our Arcade, Good Books, Sports Publishing, and Yucca imprints, is proud to publish a broad range of biographies, autobiographies, and memoirs. Our list includes biographies on well-known historical figures like Benjamin Franklin, Nelson Mandela, and Alexander Graham Bell, as well as villains from history, such as Heinrich Himmler, John Wayne Gacy, and O. J. Simpson. We have also published survivor stories of World War II, memoirs about overcoming adversity, first-hand tales of adventure, and much more. While not every title we publish becomes a national bestseller, we are committed to books on subjects that are sometimes overlooked and to authors whose work might not otherwise find a home.
---
---