Showing
10
of 61 results for
The ideal companion to Freida Carson's fifth edition of Histotechnology: A Self-Instructional Text, the fifthe e of the Workbook has been updated and expanded, with nearly 1,200 questions - one-third of which are multipart synthetic questions - to test your understanding of histotechnology concepts.
---
---
A thoroughly revised and expanded fifth edition of the perennial bestseller. Developed as a learning tool for histotechnology students, Histotechnology: A Self-Instructional Text is an indispensable teaching tool and reference guide, and a must for histotechnologists preparing for the ASCP HTL certifying examination.
---
---
---
Integrates classic morphologic diagnosis with the latest advances in flow cytometric immunophenotyping and immunohistochemistry with the most advanced molecular diagnostic techniques. Features over 2,000 high-quality diagnostic images of neoplastic and non-neoplastic disease and illustrations of genetic results.
---
---
This second edition compendium of 250 case studies is the result of a unique collaboration of 227 leading hematologists, hematopathologists, and oncologists. It will serve as both a case-based guide to the diagnosis and management of patients suffering from hematologic conditions and a valuable teaching tool.
---
---
Considered by many in the pathology field as the essential quick reference guide, the Quick Compendium of Clinical Pathology has long been the preferred clinical pathology Board exam study guide. This thoroughly revised fourth edition is more heavily illustrated-and with more quick reference tables than ever.
---
---
The new second edition of the Quick Compendium of Surgical Pathology is lavishly illustrated for the first time. Over 500 colour images compliment precise morphologic descriptions. The new edition is the most concise and comprehensive quick access study tool for those studying for Board Exams in surgical pathology.
---
---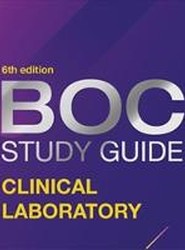 The authoritative study tool for preparing for the ASCP Board of Certification Medical Laboratory Scientist (MLS) and Medical Laboratory Technician certification examinations. This enhanced edition includes over 200 new questions and dozens of updated and revised questions.
---
---
Prepares phlebotomy students and professionals for their BOC Certification Exams, and assists instructors in developing written competency assessments. Includes over 1,300 study questions; and questions and images appear as they do on the latest BOC Phlebotomy certification exam.
---
---
Newly updated and expanded, this is a comprehensive and up-to-date working review of clinical pathology in a concise and highly readable format that makes abstract aspects of clinical pathology easier to comprehend and absorb. It includes a comprehensive chapter on Medical Directorship; integrated molecular pathology throughout; and hundreds of high-resolution images.
---
---