Showing
10
of 102 results for
As availability of rehabilitation services for cancer increases, occupational therapy practitioners must be prepared to meet the needs of this population. Cancer and Occupational Therapy equips clinicians to meet clients' needs across the cancer care continuum, from diagnosis to treatment to survivorship or end of life.
---
---
With practical advice and thoughtful explorations of the meaning of culture, this book focuses on best practices in population or public models. The text guides readers to use their international occupational therapy experiences and learning in ways that will contribute to screening, prevention, and population concerns across practice areas.
---
---
Guides students and practitioners in working with clients across the wide range of occupational therapy services to achieve improved outcomes for clients - outcomes increasingly required by health care reimbursement systems. Updates to this fifth edition reflect current evidence.
---
---
A comprehensive text that focuses on methods to assess and develop interventions for people with functional-cognitive impairments. Numerous videos, practical how-to information, theoretical bases, OTPF-3 alignment, and current evidence guide students and clinicians in integrating assessment information into the context of clinical care. Includes free access to online content.
---
---
Helps occupational therapy practitioners become capable, effective leaders across all practice settings. This new edition includes 76 new chapters in 12 sections. Each chapter includes learning objectives, key terms, essential considerations and practical applications in occupational therapy, a case example, and relevant ACOTE Standards.
---
---
Nearly 20% of occupational therapy practitioners work in school settings, requiring current, effective, and evidence-based best practices for students. Reflecting the extensiveness of occupational therapy practice in schools, this bestseller contains best practices from preschool to postsecondary transitions, from ADLs to driving.
---
---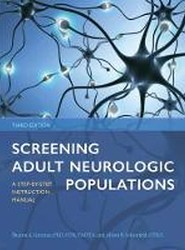 A functional, easy-to-understand instruction manual describing the most common screening methods for clients with neurological disorders. Each chapter includes functional implications of impairment, screening procedures, red flags (signs and symptoms), available in-depth assessments, and screening forms.
---
---
Since 1980, the American Occupational Therapy Association has collected its official documents into one handy, frequently updated reference work. The 23rd edition continues that tradition and includes concept papers, guidelines, position papers, roles papers, specialized knowledge and skills papers, standards, and statements.
---
---
Offers a discussion of ASD across the ages and stages of life, from early childhood to adulthood and aging. Each chapter includes key terms and case examples and covers applications to occupational therapy practice.
---
---
Providing intervention models grounded in neuroscience and occupation, this comprehensive new edition of the bestseller examines current evidence and best practices for working with clients across the lifespan. Chapters include key terms and concepts, learning objectives, case examples, and a summary of key points.
---
---