MEDICAL EBOOKS
If you need your book in an instant, we have hundreds of specialist medical ebooks. Browse by subject and see all the latest digital content in your field. All our ebooks are available for download immediately after purchase and are compatible with most e readers.
Showing
10
of 746 results for
Fertility Cryopreservation reviews the techniques in this increasingly important field of reproductive medicine.
---
---
A comprehensive book that provides evidence-based information needed to address the complex issues of cancer in pregnancy.
---
---
---
Bones and Cartilage provides the most in-depth review ever assembled on the topic. It examines the function, development and evolution of bone and cartilage as tissues, organs and skeletal systems. It describes how bone and cartilage is developed in embryos and are maintained in adults, how bone reappears when we break a leg, or even regenerates when a newt grows a new limb, or a lizard a tail. This book also looks at the molecules and cells that make bones and cartilages and how they differ in various parts of the body and across species. It answers such questions as &quote;Is bone always bone? &quote;Do bones that develop indirectly by replacing other tissues, such as marrow, tendons or ligaments, differ from one another? &quote;Is fish bone the same as human bone? &quote;Can sharks even make bone? and many more.* Complete coverage of every aspect of bone and cartilage* Full of interesting and unusual facts* The only book available that integrates development and evolution of the skeleton* Treats all levels from molecular to clinical, embryos to evolution* Written in a lively, accessible style* Extensively illustrated and referenced* Integrates analysis of differentiation, growth and patterning* Covers all the vertebrates as well as invertebrate cartilages* Identifies the stem cells in embryos and adults that can make skeletal tissues
---
---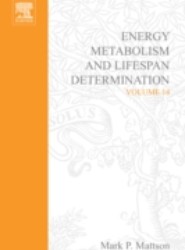 Experts in the fields of energy metabolism, aging and oxidative stress provide an integrated view of how mechanisms involved in regulating energy metabolism are linked to fundamental processes of aging including cellular stress resistance and free radical production. During evolution signal transduction pathways and organ systems have been optimised for the efficient seeking, ingestion, storing and using of energy. These signalling pathways play prominent roles in lifespan determination with insulin and related signalling pathways being prime examples. The authors consider how lifespan and healthspan can be extended through knowledge of energy metabolism with the experimental model of dietary restriction being one example. The information in this volume of ACAG will foster novel approaches and experiments for further understanding the roles of energy metabolism in aging and disease.
---
---
For more than seventy years evidence has accumulated documenting the existence of a bi-directional communication network between growth hormone and the immune system. In the past twenty years there has been a tremendous proliferation of information detailing the workings of the growth hormone and insulin-like growth factor axis. A multitude of growth factors and binding proteins have been identified. More and more evidence supporting the important role of the growth hormone IGF network in the well functioning of the normal immune system has been documented. Clearly the challenge today is not to prove, but to understand, the neuroimmune regulatory role of GLH in its entire complexity.The ultimate goal of this volume and of all the other volumes of this series is to promote the understanding of the science and to ease human suffering.
---
---
The interaction between biology and evolution has been the subject of great interest in recent years. Because evolution is such a highly debated topic, a biologically oriented discussion will appeal not only to scientists and biologists but also to the interested lay person. This topic will always be a subject of controversy and therefore any breaking information regarding it is of great interest.The author is a recognized expert in the field of developmental biology and has been instrumental in elucidating the relationship between biology and evolution. The study of evolution is of interest to many different kinds of people and Genomic Regulatory Systems: In Development and Evolution is written at a level that is very easy to read and understand even for the nonscientist.* Contents Include* Regulatory Hardwiring: A Brief Overview of the Genomic Control Apparatus and Its Causal Role in Development and Evolution * Inside the Cis-Regulatory Module: Control Logic and How the Regulatory Environment Is Transduced into Spatial Patterns of Gene Expression* Regulation of Direct Cell-Type Specification in Early Development* The Secret of the Bilaterians: Abstract Regulatory Design in Building Adult Body Parts* Changes That Make New Forms: Gene Regulatory Systems and the Evolution of Body Plans
---
---
Handbook of the Aging Brain brings together diverse scientific disciplines to cover the most recent research findings in an easy-to-read summary. Scientists and clinicians will find a wide spectrum of subjects including gerontology, neurology, psychology, molecular biology, and cellular biology. The book includes general chapters on the neuroanatomy and neurobiology of the aging brain, and moves on to discussion of specifics including signal transduction, cell death, and specific cellular and neurological changes associated with dementia, Alzheimer's and Parkinson's Disease. Other chapters discuss the affect of aging on learning and memory, language, and cognition.
---
---
Human Growth and Development pulls together information from leading experts in a variety of fields to create a one-volume resource on the human growth stages, environmental effects, and the research methods scientists should use. This text promises to be a great course-planning guide for instructors in various medical and scientific fields in addition to a thorough reference for further research.* Both biological and bio-medical approaches to human development.* Chapters on research methods of growth data collection.* Annotated reference lists for every chapter. * Tremendous breadth of knowledge within a single source.
---
---