MEDICAL EBOOKS
If you need your book in an instant, we have hundreds of specialist medical ebooks. Browse by subject and see all the latest digital content in your field. All our ebooks are available for download immediately after purchase and are compatible with most e readers.
Showing
10
of 1485 results for
---
---
Compares the area of biobanking with the tradition of ethically accepted classical research. This book highlights the features of databases and guidelines, identifies areas of consensus and controversy, investigates why genetic databases are a challenge to classical health research ethics, and analyzes why various guidelines differ.
---
---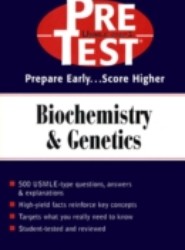 Gives medical students 500 questions, answers, and explanations to prepare for the biochemistry and genetics sections of the USMLE Step 1. The new edition includes many new questions in the two-step clinical format to simulate the USMLE Step 1.
---
---
A comprehensive reference on diagnosis and evaluation of reproductive risks and genetically related high-risk pregnancies. Authored by international group of experts, this book is organized according to diagnostic method, source of reproductive risk, and system under evaluation. Features the latest imaging technology, a review of genetics, molecular biology, and cytogenetics, and special chapters on counseling, cross-cultural, legal, and ethical issues.
---
---
This one-of-a-kind test prep guide helps you to test your knowledge of essential biochemistry and genetics concepts for the USMLE Step 1; practice with 500 USMLE Step 1-style questions with referenced answers; review explanations for right and wrong answers; and build confidence, skills, and knowledge.
---
---