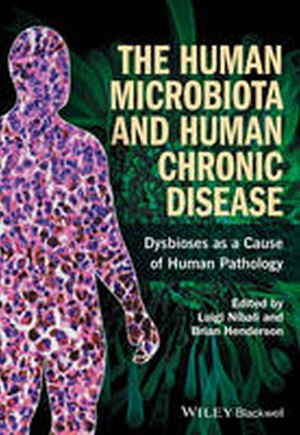 MORE ABOUT THIS BOOK
Contents:
SECTION 1 AN INTRODUCTION TO THE HUMAN TISSUE MICROBIOTAS
Chapter 1 The Human Microbiota System: A Brief History
Gerald W. Tannock
Chapter 2 The Gut Microbiota: An Integrated Interactive System
Julian R. Marchesi
Chapter 3 The Oral Microbiota
David J. Spratt/ Luigi Nibali
Chapter 4 The Skin Microbiota is More Than Skin Deep
R.L. Gallo
Chapter 5 Metagenomic Analysis of the Human Microbiome
L.G. Bermúdez–Humarán

SECTION 2 MICROBIOTA–MICROBIOTA AND MICROBIOTA–HOST INTERACTIONS IN HEALTH
AND DISEASE
Chapter 6 Systems Biology of Bacteria–Host Interactions
Ines Thiele
Chapter 7 Bacterial Biofilm Formation and Immune evasion mechanisms
Tom J. Batten/T. Kielan
Chapter 8 Who Leads in the Evolutionary Dance Between Microbiota and
Immunity
Margaret McFall–Ngai
Chapter 9 How viruses and bacteria have shaped the human genome
Frank Ryan
Chapter 10 The Microbiota: A Controlling Factor in Autoimmunity?
A.V. Chervonsky
Chapter 11 Bacterial Moonlighting Proteins in Bacteria–Host Interactions
Brian Henderson
Chapter 12 The Microbiota as an Epigenetic Control Mechanism
B.A. Shenderov
Chapter 13 The bacterial microbiota as a guardian of human health
H. Bruggemann
Chapter 14 Disruption of the Microbiota as a Cause of Immune Pathology
S.K. Mazmanian
Chapter 15 The global burden of microbial diseases
Mogens Kilian
SECTION 3 DYSBIOSES AND BACTERIAL DISEASES: METCHNIKOFF S LEGACY
Chapter 16 The Periodontal Diseases: Dysbiosis on a Massive Scale?
Luigi Nibali
Chapter 17 Is Periodontitis a Response to Keystone Pathogens?
G. Hajishengallis
Chapter 18 Porphyromonas gingivalis: Why So Pathogenic?
Richard J. Lamont
Chapter 19 Bacterial Vaginosis
J. Ravel
Chapter 20 The Vaginal Microbiota and HIV Infection
S. Lebeer
Chapter 21 Genetic dysbiosis: how host genetic variants may affect microbial biofilms
L.Nibali

Chapter 22 Diet and Dysbiosis
D.L. Gibson
SECTION 4 DYSBIOSES AND CHRONIC DISEASES: IS THERE A CONNECTION?
Chapter 23 Microbiota and Human Idiopathic Diseases: A Clinical Overview
P.K. Tosh
Chapter 24 Reactive Arthritis: The Hidden Bacterial Connection
John Carter
Chapter 25 Rheumatoid arthritis: The Bacterial Connection
Daniel R. Littman
Chapter 26 Does Porphyromonas gingivalis Cause Rheumatoid Arthritis?
Jan Potempa
Chapter 27 Klebsiella pneumoniae, Diet and Ankylosing Spondylitis
Alan Ebringer
Chapter 28 Chronic Plaque Psoriasis and the Skin and Oral Microbiota
Leonard Fry
Chapter 29 Liver Disease: Interactions with the Intestinal Microbiota
B. Schnabl
Chapter 30 The Gut Microbiota: A Predisposing Factor in Diabetes
F. Karlsson
Chapter 31 Gut Microbiota, Lipid Metabolism and Predisposition to Atherosclerosis
F. Backhed
Chapter 32 The Airway Microbiota and Susceptibility to Asthma
B.J. Marsland
Chapter 33 The Microbiota and Cancer
C. Jobin/J.G. Fox
Chapter 34 The Gut Microbiota and the CNS: An Old Story with a New Beginning
P. Forsythe
SECTION 5 MIRRORING THE FUTURE: DYSBIOSIS AS THERAPY
Chapter 35 Probiotics and Prebiotics: What Are They And What Can They Do For Us?
Marie–Jose Butel/Glenn Gibson/Sylvia Duncan
Chapter 36 Faecal Microbiota Transplantation for disturbed microbial ecosystems
M.B. Cohen/O.C. Aroniadis
Chapter 37 Dermatological Therapy by Bacterial Administration
T. Nakatsuji
Chapter 38 Tomorrow s medicine from a host–microbiota perspective: modulating Inflamm–ageing
by Controlling the Microbiota
C. Franceschi
Chapter 39 Darwinian Medicine: Homo sapiens – a Supra–Organism Requiring Supra–Treatment
A.A. Roman–Franco