Showing
10
of 25 results for
This text is ideal for introducing students to the realities of living with, treating, and researching psychological disorders. Using a multitude of examples of real people and disorders, Comer presents the material in a way that connects to students' lives. The new edition fully embraces diagnostic and definition changes introduced by the DSM-5.
---
---
Presenting current concepts in an experimental context, Kuby Immunology has been thoroughly updated to include a new chapter on innate immunity, a capstone chapter on immune responses in time and space, and many new focus boxes drawing attention to exciting clinical, evolutionary and experimental connections that help bring the material to life.
---
---
The Absolute, Ultimate Guide combines an innovative study guide with a reliable solutions manual in one convenient volume. The study guide includes major concepts, a review section, discussion questions and a self-test for each chapter, while the solutions manual provides extended solutions to end-of-chapter problems.
---
---
This detailed study guide helps students to understand and retain the material in An Introduction to Brain and Behavior, 4th edition, by Kolb and Whishaw. Each chapter includes practice tests and exercises, key concept reviews, guided study questions and section reviews.
---
---
The new sixth edition of this best-selling introduction to biochemistry maintains the clarity and coherence that so appeals to students whilst incorporating the very latest advances in the field, new worked examples and end of chapter problems and an improved artwork programme to highlight key processes and important lessons.
---
---
The eighth edition of the bestselling Abnormal Psychology engages students with its integrated coverage of theory, diagnosis, and treatment; its inclusive wide-ranging cross-cultural perspective, and its focus on the real-life impact of mental illness. Containing the latest research, Abnormal Psychology returns in a timely new edition.
---
---
Derived from Biochemistry by Stryer, Tymoczko and Berg, Biochemistry: A Short Course offers that bestseller's clear writingand physiological emphasis, while focusing on the major topics taught in a one-semester Biochemistry course. (This title may not be available in all areas. Please contact your representative for more information.)
---
---
This Student Companion offers Chapter Learning Objectives and Summary; Self-Assessment Problems, including multiple-choice, short-answer, matching questions, and challenge problems, and their answers; and expanded Solutions to end-of-chapter problems in the textbook.
---
---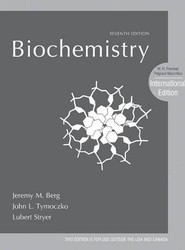 One of the most trusted books in the field, Biochemistry still shapes the way biochemistry is taught. Clear and concise in their writing and illustration, Berg et al. emphasize physiological and medical relevance. The seventh edition includes new coverage on gene regulation, new examples from medicine and the latest experimental techniques.
---
---
Combines an innovative study guide with a reliable solutions manual (providing extended solutions to end-of-chapter problems) in one volume. It includes for each chapter: major concepts, 'What to Review' questions, discussion questions, and self-test questions.
---
---