Showing
10
of 45 results for
This book explores forms of migraine, fibromyalgia and chronic fatigue syndrome found in stressed patients who clench their teeth. The simple therapeutic method presented here has a 30-year record in short-term management of unresolved signs and symptoms.
---
---
From cutaneous signs to the richness of differential diagnosis, this book guides practitioners through every step from semiological analysis to diagnosis. It provides readers with the keys of relevant dermatological reasoning.
---
---
From anesthesia to post-surgery recovery procedures, this book presents all the steps necessary to complete a stereotaxic neurosurgery protocol on rodents in accordance with current animal welfare guidelines.
---
---
At any level of sport - casual, recreational, amateur or professional - a neglected finger injury can lead to chronic problems. This book decribes a variety of injuries, their consequences, treatment, surgery, therapy and recovery, re-injury and more.
---
---
---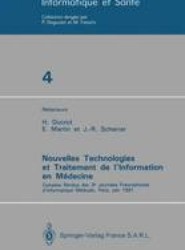 ---
Cet ouvrage collectif fait le point sur les dernieres nouvelles therapeutiques en onco-urologie dans le domaine du cancer du rein, de la prostate, de la vessie et des tumeurs germinales du testicule. Il reunit les meilleurs experts et apporte des elements de reflexion utiles et actualises aux oncologues et urologues dans ce domaine.
---
---
---