Showing
6
of 6 results for
---
---
A vet turns forty and discovers sound - and surprising - zoological evidence that he's about to experience the best years of his life
---
---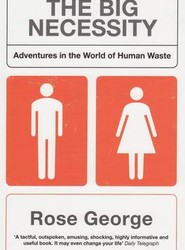 Rose George confronts the last taboo and takes us on an unprecedented tour through a world knee-deep in pestilential sewage - the most significant global issue about which few talk or think.
---
---
Takes us underground to the sewers of Paris and London and overground, to meet the heroes of India's sanitation movement, the Japanese genius at the cutting edge of toilet technology, and the biosolids lobbying team. This book also addresses the politics of this social and environmental effluent.
---
---
From Nelson Mandela's decision to go public about the cause of his son's death, to the miraculous outcome of a Tutsi woman's horrific ordeal at the hands of Hutu soldiers, and the priests, doctors and aid workers determined to help the suffering, this book covers 28 individuals whose lives have been touched by the disease.
---
---