Showing
10
of 1690 results for
In this study, Samuel K. Cohn, Jr. investigates thousands of descriptions of epidemics reaching back before the fifth-century-BCE Plague of Athens to the 2014 Ebola outbreak to challenge the dominant hypothesis that epidemics invariably provoke hatred, blaming of the 'other', and victimizing bearers of epidemic diseases.
---
---
Adjustment Disorders: From Controversy to Clinical Practice provides concise and comprehensive information on Adjustment Disorders and advances a greater understanding and better diagnostic skills among those clinicians working with this group of patients.
---
---
This new edition examines the current provision of psychosocial support, taking into account the community approaches of psychosocial care, the role of volunteers in supporting psychosocial needs, and the needs of the frail elderly. It is essential reading for the fields of medicine, nursing, social work, chaplaincy, and primary care.
---
---
In the years since the Human Genome Project, genomics has grown into a big and rapidly developing field driven by bioinformatics technology. The implications for our health and privacy, and our understanding of ecological systems and evolution are profound. This book provides an account of this exciting new science, its impact and its potential.
---
---
From modern pandemics such as HIV, Ebola, and Zika, to stories of vaccination and antiviral drugs, this Very Short Introduction charts our struggle against viruses. Outlining their origins, structure, and method of infection, Dorothy Crawford explores the vast variety of viruses, and asks if we can live in harmony with them in the future.
---
---
Stephen Gaukroger presents an original account of the development of science and our understanding of ourselves during a period which saw a fundamental shift in how the role of science was seen. At the core of the shift lies the aim of understanding human behaviour and motivations in empirical rather than theological and metaphysical terms.
---
---
Part of the Oxford Psychiatry Library series, Depression, 3rd edition succintly addresses the diagnostic and treatment issues clinicians can face when working with patients with depression.
---
---
Provides an authoritative guide to investigation and diagnosis. Describes key symptoms and signs, alongisde appropriate tests, and highlights pitfalls in interpreting results. Describes a clear, rational method of investigation in order to aid quick and efficient diagnosis, and prevent over-investigation of patients.
---
---
This essential pocketbook provides a practical, accessible guide to all emergency situations encountered above the collar bone.
---
---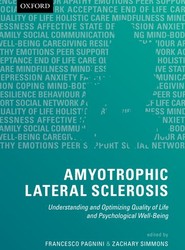 This book will provide clinicians with a comprehensive description of the psychological aspects of ALS and their management, and incorporates chapters written by recognized scholars in their respective fields.
---
---