Showing
10
of 455 results for
This book aims to reflect actual, current practice with survivors of all forms of childhood abuse and explore the experiences of practitioners who work with survivors in a transparent and accessible style.
---
---
This book examines key factors that affect public health, underlying concepts and the history of environmental health.
---
---
Edited book for midwives on normalizing challenging childbirth.
---
---
This textbook is an invaluable comprehensive guide to all of the major measures of health and quality of life.
---
---
This accessible guide will help nurses and midwives to understand and be prepared for their revalidation.
---
---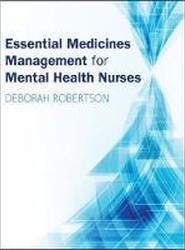 Pharmacology and medicines management for mental health nurses.
---
---
This case book is aimed at pre-registration nurses studying children's nursing and includes 23 case studies with Q&A.
---
---
This book, part of the Case Book series, will help qualified nurses doing courses on advanced practice gain confidence in consulation skills and in their ability to assess patients.
---
---