Showing
7
of 7 results for
A CSIS report which explains why AIDS is a security issue, an economic-development issue, a human-rights issue, and an issue for corporate interest. It argues that deterring the spread of AIDS is a global challenge requiring a global strategic response.
---
---
This report from the CSIS Task Force on Women's and Family Health details a bold initiative for the United States and the new Trump administration to unlock the potential of adolescent girls and young women in select low-income countries.
---
---
This study employs surveys and key informant interviews to examine global health partnerships, and it presents a framework for success to guide the development of sustainable global health programs and partnerships with measurable, defined impact.
---
---
This primer is intended to lay out the basics for a nontechnical audience to give policymakers the information they need to make informed and accurate decisions about the future of U.S. TB control efforts.
---
---
By exploring innovative diplomacy, South Africa can use AIDS as an issue to consolidate its young democracy, and it can work with transnational issue networks to strengthen middle power multilateralism more broadly.
---
---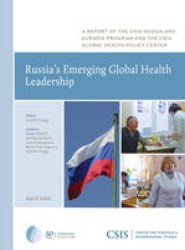 After nearly a decade of dipping its toes in the waters of international development assistance (IDA), Russia appears ready in 2012 to reconfigure its institutional apparatus for global aid-perhaps as a prelude to emergence as a more serious presence and partner on the IDA landscape.
---
---
This report traces the evolution of Hamas's health care services from the movement's origins to its current role as the de facto government of Gaza.
---
---