Showing
10
of 424 results for
Designed to help pediatricians and others who work in medical settings with children who are nonverbal, including toddlers; children with conditions such as autism, cerebral palsy, language disorders, intellectual disabilities, or oral-motor apraxia; or children who do not speak English.
---
---
For many children and teens, primary care clinicians are the first to notice and help with mental health issues. This guide helps primary care pediatricians, family doctors, nurse practitioners, and other professionals identify, treat, and prevent mental health problems as well as promote good mental health in their patients.
---
---
The completely updated 27th edition of Coding for Pediatrics that includes all changes in Current Procedural Terminology (CPT (R)) codes - complete with expert guidance for their application. Also included are the new office and outpatient evaluation and management coding changes.
---
---
This convenient card allows for quick assessment of all your pediatric immunization coding and documentation needs. Codes are shown by vaccine, manufacturer, brand, and components, alongside any relevant administration codes. This quick reference card also features common pediatric vaccine classifications and immunization coding tips.
---
---
This convenient card includes the most commonly reported Current Procedural Terminology (R) and ICD-10-CM codes. It can be used as a template to design an office superbill or as is. The card is fully updated for 2022 and laminated for extra durability.
---
---
Completely updated for 2022, this quick reference card includes codes specific to children's mental health, environment, and family history. Its featured algorithm, 'A Process for Integrating Mental Health Care Into Pediatric Practice', is newly revised for 2022.
---
---
This comprehensive chart has been updated for 2022. It features the Newborn Continuum Scenario and separately reportable services and procedures, including delivery room procedures, critical care transport, and pediatric (critical) transport supervision (non-face-to-face).
---
---
A powerful decision-support tool that guides triagers thorough each call with the same step-by-step checklist organisation and ease-of-use features as its companion resource, Pediatric Telephone Protocols. This comprehensive resource includes protocols that cover 95% of the most common adult complaints.
---
---
This convenient card features all evaluation and management service codes, as well as other recommended service codes, for well-child visits from birth to 21 years of age. The card is fully updated for 2022 and laminated for extra durability.
---
---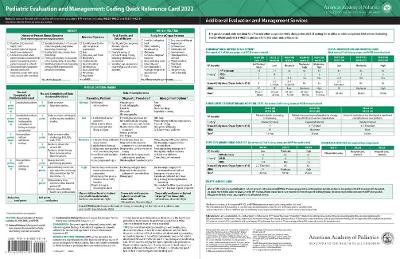 Completely updated to include all 2022 changes in evaluation and management (E/M) codes. This card features office and other outpatient evaluation and management coding guidance, which was overhauled in 2021, on one side of the card and guidance for coding additional evaluation and management services on the reverse side.
---
---