The Separating Sickness - Ma'i Ho'oka'awale
Interviews with Exiled Leprosy Patients at Kalaupapa, Hawaii
£6.03
(To see other currencies, click on price)
EPUB
---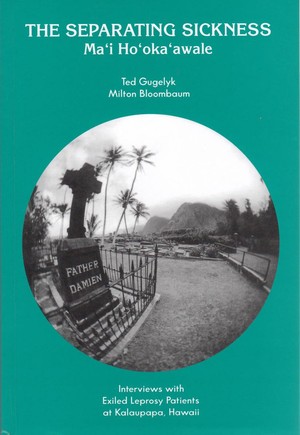 MORE ABOUT THIS BOOK
Main description:
Oral history -- interviews with exiled Leprosy Patients at Kalaupapa, Molokai, Hawaii. Patients tell about having bounties placed on them, being captured, quarantined and imprisoned for life as leprosy patients. Published by Anoai Press. 16 pages of color pictures.
Thousands of persons with leprosy were sent to die at Kalaupapa, Molokai. Kalaupapa operated as a leprosarium (actually a prison) for 103 years, from 1886 to 1969. It is the place where the Catholic Priest Father Damien came to serve the patients. He resided at Kalaupapa from 1873 to 1889. In 1889 he also succumbed to the disease. Very old patients still reside at Kalaupapa. Today, Kalaupapa has been preserved as a U.S. National Park, because of its natural beauty, and to document the tragic events that took place there.
The book "The Separating Sickness" is an oral history. It was researched and published for the first time in the mid-1970s. In the pages of the book, old patients document their lives for future generations to read about. Most of those interviewed, have passed away. Nevertheless, they share their haunting experiences with us and ask us why society treated them in such a brutal and inhumane way? -- Their lives remind us that Hawaii's history is not all bright and sunny.
"You know, the babies that were born inside here were not allowed to stay with their parents. After the babies were born, the law said they had to be taken away to the baby nursery in Kalaupapa. They were afraid of the contact - afraid the babies would catch the disease from their parents ... they allowed the children to live one year inside Kalaupapa nursery. There we could see them only through thick glass, but no can touch! Then, after one year, they were removed. They were either "hanai "by family members or 'issued' out for adoption by the Board of Health ..."
There's a whole lifetime of pain in these simple words, spoken by a "Male: Hawaiian, Widowed, Age: 81, 67 years at Kalaupapa" in a series of oral histories collected in Kalaupapa in the 1970s.
These interviews were collected by sociologists Ted Gugelyk and Milton Bloombaum and published as "The Separating Sickness: Ma'i Ho'oka'awale" in 1979. The book was recently republished by Anoai Press and is once again available at Hawaii bookstores. and as an EBook.
"That book give great insights into what it was like at Kalaupapa from the inside; the first book, really, to talk about Hansen's disease from the patient's point of view," said Stephanie Castillo, creator of "Simple Courage," an Emmy-award-winning documentary on the subject. "There are some truly amazing stories in there..."
-- Burl Burlingame, Honolulu Star-Bulletin, 1/6/97
Author Bio: Ted Gugelyk is retired from the University of Hawaii and The East West Center, in Honolulu Hawaii. He has published both academic work and fiction, and after fifty five years of living in Hawaii now resides in North East rural Thailand. He writes, travels and publishes books, Anoai Press is his small press, and produces stories about surfing, Hawaii and Asia and the Pacific.
Milton Bloombaum is a retired Senior Professor of Sociology, at the University of Hawaii. He now resides in Ashland, Oregon.
keywords: Leprosy, Hawaii, Kalaupapa-Molokai, Father Damien, Stigma, Oral History, Hawaiians.