MEDICAL EBOOKS
If you need your book in an instant, we have hundreds of specialist medical ebooks. Browse by subject and see all the latest digital content in your field. All our ebooks are available for download immediately after purchase and are compatible with most e readers.
Showing
10
of 1913 results for
Over the last few years there has been a revolution in the way we think about horses. At last we have clear ideas about how horses see the world, and about how they feel about themselves and the things we ask them to do.This book helps us to put these insights to work.Emotional Healing for Horses and Ponies brings together the skills of expert horsewoman and animal behaviourist Heather Simpson and those of leading Bach flower remedy experts Stefan Ball and Judy Howard. Together they describe how complementary medicine and simple changes in handling and housing routines can immeasurably improve the lives of our horses. Anybody who has been inspired by the tales of horse whisperers will find in this book practical steps that we can all take to give our horses happier and more joyful lives.
---
---
This book is for anyone who is interested in the welfare of horses, and who wishes to know more about treating them with homoeopathic remedies. Increasing numbers of horse owners and handlers today confirm that homoeopathy is a speedy and effective treatment, which can often deal with so-called 'incurable' ailments. As this fascinating guide explains, homoeopathic remedies are absolutely safe, easy to administer and have no side effects. This authoritative book includes advice on treating horses homoeopathically for both specific diseases and common ailments.
---
---
Meet Mohan, a rhino with painfully sore feet.And Patch, a falcon with a broken wishbone.And Kachina, a bear cub with brittle bones.Not to mention Alfredito, a hippo suffering from a sever bout of toothache.All these animals owe their lives to the dedicated zoo and wild animal vets who employ boundless ingenuity and expertise to care for them and who, in this beguiling book, tell the stories of their most memorable cases. They describe not only the meticulous detective work that goes into making a diagnosis but also the pioneering techniques they have developed. And they talk freely and movingly about the bonds they form with their exotic patients.. Whether it's one doctor's determined effort to save a critically ill lemur, the neurosurgeon who was persuaded to operate on a paralysed kangaroo, or the vet who refused to give up on an orphaned baby beluga whale, these are acts of rescue, kindness and co-operation that will warm every animal lover's heart.
---
---
Bach Flower Remedies for Animals is a complete and authoritative guide to using the Bach Flower Remedies as an alternative treatment for pets and other animals. Written by experts, it includes the history behind Dr Bach's internationally acclaimed remedies and explains how the remedies are suitable for animals. According to an animal's temperament, a particular remedy or combination of remedies will prove the most beneficial for it. There is guidance on using the remedies and on reading animal behaviour, drawing on insights from professional animal behaviourists. There is also detailed information on treating animals in the home, horses, and animals on the farm or in the wild. Packed full of helpful advice, there are intriguing case studies throughout.
---
---
Offers information including: suggested jobs in a range of settings, from the office to the outdoors; a selection of jobs with different levels of educational requirements; advice on competing in hot job markets; and, tips on transforming hobbies into job skills.
---
---
First published in 1963, Advances in Parasitology contains comprehensive and up-to-date reviews in all areas of interest in contemporary parasitology. Now edited by J.R. Baker (Royal School of Tropical Medicine and Hygiene, UK), R. Muller (International Institute of Parasitology, UK) and D. Rollinson (The Natural History Museum, UK), supported by an international Editorial Board, Advances in Parasitology includes medical studies on parasites of major influence, such as typanosomiasis and scabies, and reviews of more traditional areas, such as zoology, taxonomy, and life history, which shape current thinking and applications. Eclectic volumes are supplemented by thematic volumes on such topics as Remote Sensing and Geographical Information Systems in Epidemiology. In 1999, the Institute for Scientific Information released figures showing that Advances in Parasitology has an Impact Factor of 4.913, placing it 2nd in the highly competitive category of Parasitology. First in the ISI Parasitology List in 2000ISI Impact Factor of 6.724 in 2000Series features over 35 years of parasitology coverageAspects of human parasites in which surgical intervention may be importantElectron transfer complexes in Ascaris MitochondriaCestode prasites: application of in vivo and in vitro models for studies on the host-parasite relationship
---
---
Since its inception in 1945, this serial has provided critical and integrating articles written by research specialists who integrate industrial, analytical, and technological aspects of biochemistry, organic chemistry, and instrumentation methodology in the study of carbohydrates. The articles provide a definitive interpretation of the current status and future trends in carbohydrate chemistry and biochemistry.
---
---
Rabies offers a complete account of one of the oldest known diseases threatening public health today. Unlike most research-oriented descriptions of rabies, this book provides a narrative about the disease and its etiologic agent, encompassing the historical background to recent developments. The emphasis on the basic biology and molecular virology of the disease is intended to convey an understanding of the underlying mechanisms involved in the disease - essential information for diagnosis and prevention strategies. Current methods used in defining geographic origins and animal species of rabies viruses in wildlife are presented, along with diagnostic methods for identifying the strain of virus based on its genomic sequence and antigenic structure. The latest approved methods for controlling rabies in wildlife species are also covered. This account of rabies will interest clinicians, public health advisors, epidemiologists, research scientists, and anyone involved in diagnosing, treating, controlling, and preventing this disease.Key Features* A history of rabies from antiquity to the modern era* Basic biology and molecular virology* Epidemiological aspects* Pathogenesis and pathology of the disease* Clinical manifestations and diagnostic evaluation in humans and animals* Preventive measures in humans and animals
---
---
Recent trends toward specialization in veterinary medicine parallel similar trends in the practice of human medicine. W. Jean Dodds, the new editor of Advances in Veterinary Science and Comparative Medicine, has brought together recognized authorities to integrate the legal and ethical implications generated by the issue of specialization. Routine and specialized veterinary practices, including genetic screening, are now associated with clinical trials. This book establishes the links between specialization in the veterinary sciences and the factors that influence the use of animals in basic science and medicine.
---
---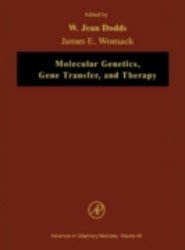 Animal science is being transformed by advances in molecular genetics. This book covers this exciting transformation. Both the diagnosis and treatment of disease are discussed in seven chapters by a team of leading international authorities. From oncogenesis and hemophilia to retroviral virulence and genome mapping, this volume yields an understanding of fundamental mechanisms of action and insightful means of diagnosis and treatment. Practicing veterinarians and researchers in animal science will find this book useful.
---
---