MEDICAL EBOOKS
If you need your book in an instant, we have hundreds of specialist medical ebooks. Browse by subject and see all the latest digital content in your field. All our ebooks are available for download immediately after purchase and are compatible with most e readers.
Showing
10
of 3100 results for
Behavior is shaped by both genetics and experience--nature and nurture. This book synthesizes research from behavioral genetics and animal and veterinary science, bridging the gap between these fields. The objective is to show that principles of behavioral genetics have practical applications to agricultural and companion animals. The continuing domestication of animals is a complex process whose myriad impacts on animal behavior are commonly under-appreciated. Genetic factors play a significant role in both species-specific behaviors and behavioral differences exhibited by individuals in the same species. Leading authorities explore the impact of increased intensities of selection on domestic animal behavior. Rodents, cattle, pigs, sheep, horses, herding and guard dogs, and poultry are all included in these discussions of genetics and behavior, making this book useful to veterinarians, livestock producers, laboratory animal researchers and technicians, animal trainers and breeders, and any researcher interested in animal behavior.Includes four new chapters on dog and fox behavior, pig behavior, the effects of domestication and horse behaviorSynthesizes research from behavioral genetics, animal science, and veterinary literatureBroaches fields of behavior genetics and behavioral researchIncludes practical applications of principles discovered by behavioral genetics researchersCovers many species ranging from pigs, dogs, foxes, rodents, cattle, horses, and cats
---
---
Written in response to a growing demand on the part of pig farmers, here is a text-book which will provide a working manual to which reference can be readily made.Not all the diseases discussed in the text are of interest to pig producers in the United Kingdom but they have been included in the hope that they may be of interest to pig farmers in other countries. Also some of the diseases discussed are subject to the restrictions under the Diseases of Animals Acts and Orders, but they have been included in the hope that owners may recognise the cardinal symptoms of these diseases and take action accordingly.
---
---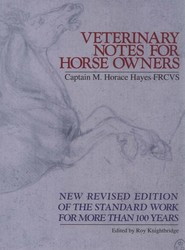 For nearly 125 years, Captain Hayes' Veterinary Notes for Horse Owners has been the standard work on equine health care, constantly amended and updated. Leading veterinary specialists from Britain and around the world have been recruited to write this edition, the 18th, so it will continue to provide a totally comprehensive guide to horse medicine and surgery, explaining the symptoms and treatment of every disease or injury that the horse owner is likely to encounter. Written in plain language that both experts and novices will appreciate, the book contains detailed sections on the Organ, Musculoskeletal and Reproductive Systems, Infectious Diseases, Medical and Surgical matters, Management and Husbandry, and a variety of other important issues. New for this edition are section on Performance Analysis and Artificial Insemination. Clear, concise and authoritative, Veterinary Notes for Horse Owners saves horses lives.
---
---
This practical guide to equine health care is filled with sound advice that is presented in a warm and approachable tone. Experienced veterinarian Brent Kelley offers proven methods for dealing with a variety of medical situations every horse owner is likely to encounter, from pregnancy and foaling to fractures and infections. With examples drawn from real-life stories, Kelley helps you confidently and effectively manage common ailments and provide the necessary care to keep your horse healthy and happy.
---
---
As more and more people are choosing natural medicine for themselves, they are also seeking it for their pets. This book tells you everything you need to know about natural health care for dogs and cats, including: How to make a fresh, balanced natural diet for your pet How natural medicine works and why you should choose to use it Which treatments and remedies are available for animals Which conditions respond best to which treatments Using herbs , food supplements and natural remedies for specific ailments How to treat a variety of common complaints safely and effectively at home What to include in a natural first-aid kit Where to find a practitioner to treat your pet How to give your pet a healthier, happier, and longer lifeFilled with practical help, The Natural Way for Dogs and Cats details simple and effective cures for a variety of common complaints. From skin problems and arthritis, to behavioral problems and digestive disorders, this book will help you chose the most effective treatment or remedy for your pet. It describes in detail the major holistic treatments for animals, including acupuncture, herbs, aromatherapy, chiropractic, flower remedies, healing, homeopathy, and nutrition. If you re looking for healthy alternatives to commercial pet foods, drugs or surgery, but do not know where to start, this inspirational book is for you and your pet!
---
---
Many farmers today are concerned, not only with the increasing cost of conventional drugs, but also with their side-effects and the build-up of resistant strains of bacteria due to the continued and often indiscriminate use of antibiotics.While this book will appeal to the already converted it is hoped that the unprejudiced newcomer will be sufficiently encouraged to investigate this system of medicine and enjoy its undoubted benefits.The aim of the homeopathic approach is to build up the health of the herd and increase the resistance of its individual members to disease, and, in consequence to increase the milk output and quality.Homeopathic remedies are all derived from natural sources and George Macleod outlines the homeopathic approach to the commoner diseases of cattle, omitting only serious injuries and others which are not economic to treat.
---
---
This book is written to satisfy the needs of the increasing numbers of dog lovers who are interested in alternative methods to treat their pets. This comprehensive guide introduces the principles of homoeopathy and the nature of homoeopathic remedies, explaining how remedies can be prepared and administered. There are informative sections on treating the different canine bodily systems and the specific diseases that dogs may suffer from. There is also helpful advice on canine virus and bacterial diseases, as well as the diseases of puppyhood, making this book a must for any dog owner.
---
---
Does your cat scratch your carpets? Or soil in the house? Or perhaps your cat's behaviour has changed recently - becoming withdrawn or aggressive towards you or another member of your family? Or perhaps you would just like to understand the way your cat thinks?In this comprehensive guide cat counsellor Vicky Hall helps cat owners identify what is causing their cat's behaviour and provides a clear step-by-step solution to tackling behavioural problems. Fascinating case studies drawn from Vicky's personal and professional experiences are included. Each study is both informative and entertaining and will undoutedly help cat owners understand their cat's behaviour much better. This is essential reading for all cat lovers.
---
---
Cats have their ups and downs, just like people. Emotional Healing for Cats tells you what to do on the down days, including how to:-help your cat adjust to change and deal with illness and anxiety-deal with behavioural problems-understand life from your cat's point of view With a full guide to selecting Bach Flower Remedies and advice on other complementary therapies that can contribute to your cat's emotional health, Emotional Healing for Cats is the definitive guide to a balanced life for all your feline friends. Stefan Ball and Judy Howard are world experts on Dr Bach and his work. They teach practitioner level courses at the Bach Centre in England and have written widely on flower remedies and the complementary approach to health.
---
---
This book is written to satisfy the needs of the increasing numbers of cat lovers who are interested in alternative methods to treat the illnesses to which their pets may fall prey. This comprehensive guide introduces the principles of homoeopathy and the nature of homoeopathic remedies, explaining how remedies can be prepared and administered. There are informative sections on treating the different feline bodily systems and the specific diseases that cats may suffer from. There is also advice on treating common feline ailments such as parasites, wounds and injuries.
---
---