MEDICAL EBOOKS
If you need your book in an instant, we have hundreds of specialist medical ebooks. Browse by subject and see all the latest digital content in your field. All our ebooks are available for download immediately after purchase and are compatible with most e readers.
Showing
10
of 1197 results for
---
---
The NFL insists players know they're playing a dangerous game, but players never see the deteriorated mental capacities of their former heroes. Throwaway Players is former Tampa Bay Buccaneers president Gay Culverhouses story of the broken bodies and lost souls of the men who have left the locker room and what remains after the cheering subsides. Focused on making money rather than the well-being of their players, this is the dark side of football the NFL doesn't want fans to see.Additionally, high schools, colleges, and independent sports organizations have little oversight when choosing players equipment. This breeds a new generation of kids suffering from multiple concussions and damaged lives. Throwaway Players offers guidance to parents navigating the world of competitive sports as well as advocacy and resources for athletes often left in the dark about appropriate procedures for treating injuries, especially head traumas. Throwaway Players is essential reading for any parent, athlete, and sports fan.Gay Culverhouse testified before Congress on football head injuries and successfully changed the policy of including an independent neurologist on the sidelines of every NFL game. Gay's work with former players has appeared in The New York Times, Sarasota Herald Tribune, St. Petersburg Times, The Tampa Tribune, Time magazine, and many more. She has appeared on several radio shows, including PBS and ESPN, and is featured in three documentaries that are in post-production (with CNN, ESPN, and an independent filmmaker). In November 2009 Gay formed The Gay Culverhouse Players Outreach Program, Inc., a nonprofit organization to further the work nationally for retired players.
---
---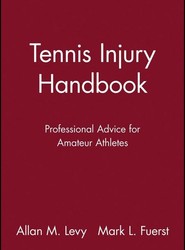 &quote;A very comprehensive and well-written book about the most common tennis injuries. I certainly wish something like this had been available 25 years ago.&quote;--Fred Stolle, member of the International Tennis Hall of Fame.&quote;Maintaining fitness is a high priority for people of all ages, especially those of us addicted to tennis. This book can help you improve not only your game but your quality of life as well.&quote;--David N. Dinkins, USTA and USPTR Board Member and former mayor of New York City.&quote;It would be hard to find a more comprehensive or comprehensible guide to preparing for tennis play, not to mention preventing and treating tennis injuries. Every tennis player--beginning, intermediate, and advanced--could benefit from Dr. Levy's and Mark Fuerst's efforts.&quote;--Shimon-Craig Van Collie, author of Tennis: The Lifetime Sport.From the authors of the classic Sports Injury Handbook, this top-notch manual of easy-to-follow tennis do's and don'ts is all you need to prevent injuries, treat common symptoms, and improve your conditioning, flexibility, and strength, so you can pick up the pace on your serve or unload a return that won't come back. Dr. Allan Levy's practical knowledge of tennis fitness is indispensable for players at every skill level--from absolute beginners to club champions.Developed from his own experience treating recreational and professional tennis players, Dr. Levy's program features refreshingly simple stretches and exercises you can do on or off the court. For ease of use, the main part of the book is organized by area of the body. You'll learn how to recognize and treat injuries and determine when it is safe to play again. Packed with clear illustrations and practical advice, the Tennis Injury Handbook features: * Specific training ideas to improve your game and prevent injuries. * Easy-to-follow techniques for stretching, conditioning, and rehabilitation. * Expert advice on what foods to eat before, during, and after playing. * The pluses and minuses of a variety of tennis gadgets on the market. * A complete guide to tennis injuries from head to toe--how to recognize them and how to heal them.
---
---
---
---
---
---
---
---