MEDICAL EBOOKS
If you need your book in an instant, we have hundreds of specialist medical ebooks. Browse by subject and see all the latest digital content in your field. All our ebooks are available for download immediately after purchase and are compatible with most e readers.
Showing
10
of 14483 results for
Cilia--the tiny hairlike structures on the surface of cells--have recently been identified as playing a role in a variety of disease and developmental disorders. Absent or defective cilia in certain cells can cause infertility, blindness, kidney disease, and lung disease. This volume presents recent findings in cilia research and current thought on the role of cilia in disease and developmental abnormalities.
---
---
The critically acclaimed laboratory standard for more than forty years, Methods in Enzymology is one of the most highly respected publications in the field of biochemistry. Since 1955, each volume has been eagerly awaited, frequently consulted, and praised by researchers and reviewers alike. Now with over 400 volumes (all of them still in print), the series contains much material still relevant today-truly an essential publication for researchers in all fields of life sciences. Methods in Enzymology is now available online at ScienceDirect - full-text online of volumes 1 onwards. For more information about the Elsevier Book Series on ScienceDirect Program, please visit: http://www.info.sciencedirect.com/bookseries/ This volume is the second of two planned volumes on the topic of globin and other nitric oxide-reactive proteins.
---
---
This is the companion volume to Daniel Klionsky's Autophagy: Lower Eukaryotes, which features the basic methods in autophagy covering yeasts and alternative fungi. Klionsky is one of the leading authorities in the field. He is the editor-in-chief of Autophagy. The November 2007 issue of Nature Reviews highlighted his article, &quote;Autophagy: from phenomenology to molecular understanding in less than a decade. He is currently editing guidelines for the field, with 230 contributing authors that will publish in Autophagy.Particularly in times of stress, like starvation and disease, higher organisms have an internal mechanism in their cells for chewing up and recycling parts of themselves. The process of internal &quote;house-cleaning in the cell is called autophagy - literally self-eating. Breakthroughs in understanding the molecular basis of autophagy came after the cloning of ATG1 in yeast. These ATG genes in yeast were the stepping stones to the explosion of research into the molecular analysis of autophagy in higher eukaryotes. In the future, this research will help to design clinical approaches that can turn on autophagy and halt tumor growth.*Establishes the functional roles of specific cellular proteins in selective and nonselective autophagy in mammalian cells, which aides researchers in determining why autophagy is shut down in neoplastia (growth of abnormal tissue mass) and turned on during bacterial invasion *Includes methods to evaluate the role of autophagy in the drug-induced cell death of cancer cells in culture, which helps researchers design clinical approaches that can turn on autophagy and halt tumor growth*Covers higher eukaryotes including lifespan in C.elegans to marine organisms and bridging into the clinical aspects, including autophagy in chronic myelogenous leukemia (CML is one of four types of leukemia), lung cancer, prostate cancer, and cardiac cells.
---
---
Specific complexes of protein and RNA carry out many essential biological functions, including RNA processing, RNA turnover, and RNA folding, as well as the translation of genetic information from mRNA into protein sequences. Messenger RNA (mRNA) decay is now emerging as an important control point and a major contributor to gene expression. Continuing identification of the protein factors and cofactors and mRNA instability elements responsible for mRNA decay allow researchers to build a comprehensive picture of the highly orchestrated processes involved in mRNA decay and its regulation.* Covers the nonsense-mediated mRNA decay (NMD) or mRNA surveillance pathway * Expert researchers introduce the most advanced technologies and techniques * Offers step-by-step lab instructions, including necessary equipment and reagents
---
---
Gastroesophageal reflux is one of the most common maladies of mankind. Approximately 40% of the adult population of the USA suffers from significant heartburn and the numerous antacids advertised incessantly on national television represents a $8 billion per year drug market. The ability to control acid secretion with the increasingly effective acid-suppressive agents such as the H2 blockers (pepcid, zantac) and proton pump inhibitors (nexium, prevacid) has given physicians an excellent method of treating the symptoms of acid reflux.Unfortunately, this has not eradicated reflux disease. It has just changed its nature. While heartburn, ulceration and strictures have become rare, reflux-induced adenocarcinoma of the esophagus is becoming increasingly common. Adenocarcinoma of the esophagus and gastric cardia is now the most rapidly increasing cancer type in the Western world.At present, there is no histologic test that has any practical value in the diagnosis of reflux disease. The only histologic diagnostic criteria are related to changes in the squamous epithelium which are too insensitive and nonspecific for effective patient management. It is widely recognized that columnar metaplasia of the esophagus (manifest histologically as cardiac, oxyntocardiac and intestinal epithelia) is caused by reflux. However, except for intestinal metaplasia, which is diagnostic for Barrett esophagus, these columnar epithelia are not used to diagnose reflux disease in biopsies. The reason for this is that these epithelial types are indistinguishable from &quote;normal&quote; &quote;gastric&quote; cardiac mucosa. In standard histology texts, this &quote;normal gastric cardia&quote; is 2-3 cm long.In the mid-1990s, Dr. Chandrasoma and his team at USC produced autopsy data suggesting that cardiac and oxyntocardiac mucosa is normally absent from this region and that their presence in biopsies was histologic evidence of reflux disease. From this data, they determined that the presence of cardiac mucosa was a pathologic entity caused by reflux and could therefore be used as a highly specific and sensitive diagnostic criterion for the histologic diagnosis of reflux disease. They call this entity &quote;reflux carditis&quote;. In addition, the length of these metaplastic columnar epithelia in the esophagus was an accurate measure of the severity of reflux disease in a given patient.At present, there is some controversy over whether cardiac mucosa is totally absent or present normally to the extent of 0-4 mm. While this should not be a deterrent to changing criteria which are dependent on there normally being 20-30 cm of cardiac mucosa, there has been little mainstream attempt to change existing endoscopic and pathologic diagnostic criteria in the mainstream of either gastroenterology or pathology. The ATLAS will be the source of easily digestible practical information for pathologists faced with biopsies from this region. It will also guide gastroenterologists as they biopsy these patients.The American Gastroenterological Association claims there are 14,500 members worldwide who are practicing physicians and scientists who research, diagnose and treat disorders of the gastrointestinal tract and liverAccording to the American Society for Clinical Pathology, there are 12,000 board certified pathologists in the U.S.Adenocarcinoma of the esophagus and gastric cardia is now the most rapidly increasing cancer type in the Western worldApproximately 40% of the adult population of the U.S. suffers from significant heartburn and the numerous antacids advertised on national television represents an $8 billion per year drug market
---
---
The second edition of this innovative work again provides a unique perspective on the clinical discovery process by providing input from experts within the NIH on the principles and practice of clinical research. Molecular medicine, genomics, and proteomics have opened vast opportunities for translation of basic science observations to the bedside through clinical research. As an introductory reference it gives clinical investigators in all fields an awareness of the tools required to ensure research protocols are well designed and comply with the rigorous regulatory requirements necessary to maximize the safety of research subjects. Complete with sections on the history of clinical research and ethics, copious figures and charts, and sample documents it serves as an excellent companion text for any course on clinical research and as a must-have reference for seasoned researchers.*Incorporates new chapters on Managing Conflicts of Interest in Human Subjects Research, Clinical Research from the Patient's Perspective, The Clinical Researcher and the Media, Data Management in Clinical Research, Evaluation of a Protocol Budget, Clinical Research from the Industry Perspective, and Genetics in Clinical Research *Addresses the vast opportunities for translation of basic science observations to the bedside through clinical research*Delves into data management and addresses how to collect data and use it for discovery*Contains valuable, up-to-date information on how to obtain funding from the federal government
---
---
Proteases occur naturally in all organisms. They are enzymes that are involved in many physiological reactions such as digestion of food and blood clotting. This volume reviews their role in health and disease and presents the latest research and developments.* Discusses new discoveries, approaches, and ideas * Contributions from leading scholars and industry experts * Reference guide for researchers involved in molecular biology and related fields
---
---
Now available with the most current and relevant journal articles from Cell Press, Biotechnology Academic Cell Update Edition approaches modern biotechnology from a molecular basis, which grew out of the increasing biochemical understanding of physiology. Using straightforward, less-technical jargon, Clark and Pazdernik manage to introduce each chapter with a basic concept that ultimately evolves into a more specific detailed principle. This up-to-date text covers a wide realm of topics, including the forensics used in crime scene investigations, the burgeoning field of nanobiotechnology, bioethics and other cutting edge topics in today's world of biotechnology.An easy-to-use study guide that incorporates the most current, relevant journal articles from Cell Press Full supplements including text and journal test bank, image gallery and online self quizzing Basic concepts followed by more detailed, specific applications with clear, color illustrations of key topics and concepts
---
---
Glycosaminoglycans (GAGs) are a family of linear polysaccharides that are found in all animal tissues. Several are used as biomaterials, including heparin, heparin sulfate, keratan sulfate, dermatan sulfate, and chondroitin sulfate. This volume discusses the role of GAGs in development, health and disease.* This series provides a forum for discussion of new discoveries, approaches, and ideas * Contributions from leading scholars and industry experts * Reference guide for researchers involved in molecular biology and related fields
---
---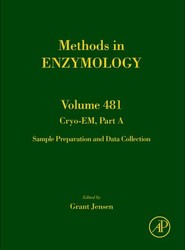 Cryo-EM Part A: Sample Preparation and Data Collection is dedicated to a description of the instruments, samples, protocols, and analyses that belong to cryo-EM. It emphasizes the relatedness of the ideas, instrumentation, and methods underlying all cryo-EM approaches, which allow practitioners to easily move between them. Within each section, the articles are ordered according to the most common symmetry of the sample to which their methods are applied.Includes time-tested core methods and new innovations applicable to any researcherMethods included are useful to both established researchers and newcomers to the fieldRelevant background and reference information given for procedures can be used as a guide
---
---