Showing
10
of 305 results for
The largest high-level encyclopedia on molecular medicine is now publishing a topical volume on Nanomedicine. The long awaited volume gives a comprehensive overview on nanomaterials in drug delivery, imaging and as therapeutics.
---
---
---
Starting with the molecular basis of inflammation, the book continues with inflammation in infectious diseases and the relationship between inflammation and chronic diseases. The final part of the work is devoted to tissue healing and options for therapeutic interventions.
---
---
This new up-to-date edition of the successful handbook and ready reference retains the proven concept of the first, covering basic and advanced methods and applications in infrared imaging from two leading expert authors in the field.
---
---
The past decade has seen the reappearance of natural products as a valuable source of potent therapeutics. Here, experts on bioactive natural products cover the full spectrum of clinically relevant enzymes that are known to be targeted by natural products.
---
---
In this practice-oriented two volume handbook, professionals from some of the largest biopharmaceutical companies and top academic researchers address the key concepts and challenges in the development of protein pharmaceuticals for medicinal chemists and drug developers of all trades.
---
---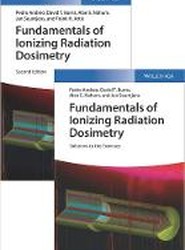 The textbook "Fundamentals of Ionizing Radition Dosimetry" bundled with the workbook containing solutions to the exercises is the perfect pair for anyone seriously interested in radiation dosimetry.
---
---
Fosters a thorough understand of radiation dosimetry concepts: detailed solutions to the exercises in the textbook "Fundamentals of Ionizing Radiation Dosimetry"!.
---
---