Showing
10
of 17 results for
This work is a comprehensive repository of social science methods in health research, which aims to facilitate related inquiry and possible consequent health improvements.
---
---
The Legends in Marketing series captures the essence of the most important contributions made in the field of marketing in the past hundred years
---
---
Identifies the nature of well-being through analysis of in-depth interviews with Indians on what good life means to them
---
---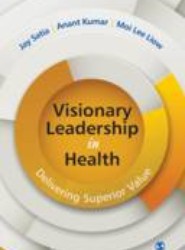 Presents a visionary leadership framework and its application toward delivering superior value in health. This book provides a road map on how to create shared vision, assess vision-reality gap, identify paths to pursue, inspire, and empower stakeholders, and utilize results-based management to deliver superior value.
---
---
Addresses an issue of international, national and local importance - HIV/AIDS - an issue where the predominant attention is on the humanitarian and developmental catastrophe that it is accused of leading to, particularly in the developing world. This book is based on a study conducted in Goa (India).
---
---
The present Maharashtra Human Development Report (MHDR) 2012 keeps the spirit of the Eleventh and Twelfth Five Year Plans of 'faster, sustainable and more inclusive growth' at the core of its analysis. This book deals with this report.
---
---
These descriptive cases encourage readers to analytically view the need for innovations, critically analyse their success and challenges and the need for information sharing for better utilization of existing knowledge.
---
---
A work by health care experts and skilled professionals, Three Decades of HIV/ AIDS in Asia contains country-specific chapters on the HIV/AIDS problem-low-prevalence countries such as Bangladesh and Sri Lanka as well as countries with advanced epidemics such as Cambodia, China, India, Pakistan, Thailand and Vietnam-and the evolving response to it. With the modus operandi of real-life stories and case studies, this work becomes more relevant in assessing the reality and the prevention measures required for effective prevention.
---
---
Maternal and child-health indicators have remained poor in northern India, with various factors contributing to the continued mortality and morbidity. Covering UP and Bihar, this title offers information on family dynamics that could be used to develop a comprehensive behavior change communication (BCC) strategy on family health in northern India.
---
---