Showing
10
of 31 results for
Building on the success of the popular first edition, this book supports a better understanding of medical education for anyone involved in supporting future GPs. Its easy to read style coupled with expert opinion makes it an authoritative text on how to become involved with and develop GP education.
---
---
This book offers a succinct method to clinicians for classifying uncertainty and finding the right skills to manage different types of uncertainty successfully.
---
---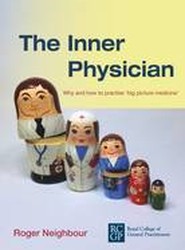 In the final volume of his 'Inner' trilogy, Roger Neighbour, author of The Inner Consultation, explores the relationship between a doctor's professional and private selves.
---
---
Compassion: Compassion, Continuity and Caring in the NHS is a reminder that compassion is at the heart of good medical practice.
---
---
The RCGP Insider's Guide to the CSA for the MRCGP gives candidates a unique understanding of the CSA examination. For the first time, ideas on communication based on evidence from the exam itself are presented, based on the authors' insider knowledge of the requirements of the CSA exam.
---
---
Hot Topics in Financial and Legal Matters, a compendium of important and current topics around accounting, banking and legal issues, will be of enormous use to GPs and practice managers and GPs. The topics have been carefully selected to be as up to date and applicable to current issues as possible.
---
---
GPs (doctors) and practice managers confront many issues in staff management. A Guide to Staff Employment in General Practice provides detailed procedures for navigating these sometimes difficult issues. At the same time, the book identifies relevant UK law and draws on authoritative advice from bodies such as Acas.
---
---
Medical Mentoring is a practical guide to using mentoring to help doctors with their professional development, support them when difficulties arise and prevent problems developing.
---
---
A Flourishing Practice? looks at the moral problems that currently seem prevalent in health care. It suggests how GPs, other health professionals and patients can overcome the 'moral confusion' of everyday life in the healthcare system.
---
---
Being a Doctor will help inform doctors about the nature of their work, help them face and resolve some of their daily challenges, and make them more effective in their practice. Being a Doctor moves beyond biomedicine, providing useful insights that explain how both doctors and patients think and behave.
---
---