Showing
10
of 277 results for
---
A spotlight has been shone on postpartum depression with high-profile celebrities speaking out on their stories. However, anxiety & depression can also strike during pregnancy, and the effects can be just as devastating. Here, the author explores her own and others' experiences with prenatal and postpartum depression, offering insight and guidance.
---
---
Most mental illnesses start to arise in the later teen years and early twenties, making college-age young adults a vulnerable population. Here, Marcia Morris looks at the most common mental health issues facing this age group and what parents can do to recognize symptoms, get treatment, and support their children through these challenging years.
---
---
Finding the best and most appropriate in-home care for an aging loved one can be confusing and time consuming. This guide helps readers through the process of hiring a private caregiver, assessing needs and resources, and making difficult choices. Using real stories throughout, the authors reveal the benefits and pitfalls of in-home care.
---
---
While the subject of climate change is often in the news and social media, and its realities debated in various arenas of science and government, the health impacts are often overlooked. Here, two seasoned physicians dispel myths, clarify science, and help readers understand the threats of environmental change to human health.
---
---
Our knees take a beating on a daily basis, even if all we ever do is sit and walk. As one of the most used and abused joints, it's a hotspot for pain, strain, and injury. This book helps readers better understand how the knee works, how to prevent injury and strain, and how to treat it if and when the knee is in need.
---
---
ADHD has become a common diagnosis among children, and is now being more frequently diagnosed in adults. Jeff Emmerson offers his story alongside expert accounts of what constitutes ADHD, the problems with current diagnosis strategies and definitions, alternative treatments, and the role of pharmaceutical companies in today's approaches to ADHD.
---
---
Nearly 40 million Americans are affected by breathing disorders and diseases. Gasping ForAir is the compelling story of the continuous conflict between our need to breathe and the environmental forces that oppose us.
---
---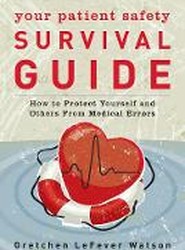 Medical errors happen all the time. Yet, it's not enough to rely on the health care system itself to remedy the problems. Patients must be aware of the risks and involved in the solutions. Here, the author looks at the most common risks, offers solutions patients can employ, and considers approaches to solving problems where they exist.
---
---