Showing
10
of 528 results for
This professional resource for audiology practitioners involved in the clinical management of patients who suffer from sound tolerance concerns covers emerging assessment and intervention strategies associated with hyperacusis, disorders of pitch perception, and other unusual processing deficits of the auditory system.
---
---
For graduate students or practicing audiologists, this book provides a readable yet comprehensive source of information on otoacoustic emissions (OAEs).
---
---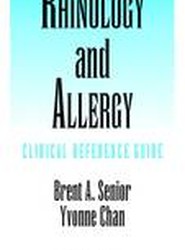 A portable reference guide that fills the void of an easy-to-read, concise, but comprehensive book encompassing all aspects of rhinology and allergy for ENTs in-training, or studying for board certification.
---
---
Provides a reference of more than 7,000 terms integral to the profession, practice, and science of audiology along with illustrations and tables.
---
---
For graduate-level audiology students, or practicing audiologists in a variety of settings, this text contains critically important information essential to the operational and business management of and audiology practice.
---
---
For graduate dysphagia courses in speech-language pathology programs, this textbook and workbook set present a multidisciplinary approach to the topic, incorporating information pertinent to the roles, tools, and views of a multidisciplinary dysphagia team.
---
---
Designed as a companion to the textbook Dysphagia Assessment and Treatment Planning, Third Edition by Rebecca Leonard and Katherine Kendall the workbook includes quiz questions, figure labeling, case-based problem solving, application of videofluorographic and FEES measures or ratings, as well as report writing.
---
---
For undergraduate courses in hearing science, this textbook addresses all the topics critical to understanding the subject: acoustics, anatomy and physiology of the auditory and vestibular systems, psychoacoustics, and basic instrumentation.
---
---
For language acquisition courses in speech-language pathology programs, this textbook presents the primary components of language development (morphology, phonology, semantics, syntax, pragmatics, literacy development, and multicultural/multilinguistic differences), along with examples of children's speech and language behaviors.
---
---
For graduate courses in audiology, this textbook outlines the history, definition, behaviors, and co-morbidity of auditory processing disorders before educating the reader on the most current practices for audiological and speech-language assessment of APD, including its impact on literacy and language processing.
---
---