Showing
10
of 487 results for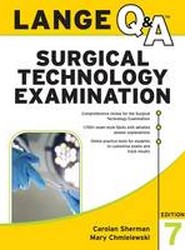 Features more than 1,700 Q&As, online practice tests, and NEW summaries of important points for each chapter. This edition provides a complete review for the surgical technology certification exam. It includes detailed answer explanations and covers all major areas of the surgical technology curriculum.
---
---
A resource on trauma surgery - with an expanded full-color atlas. Enhanced by a full-color design and a high-quality atlas of anatomic drawings and surgical approaches, it takes readers through the full range of injuries the trauma surgeon is likely to encounter.
---
---
Designed for students interested in exercise physiology, clinical exercise physiology, human performance, kinesiology/exercise science, physical therapy, and physical education, this edition provides students with an understanding of the physiology of exercise through the use of numerous clinical applications.
---
---
Features a selection and interpretation of more than 450 laboratory and microbiology tests, and also includes coverage of diagnostic imaging and electrocardiology. This title contains information on the basic principles of diagnostic testing, performance of common bedside procedures, diagnostic algorithms, and more.
---
---