Showing
10
of 75 results for
---
Landau-Kleffner syndrome (LKS) is a rare childhood neurological syndrome. It is characterised by a sudden or gradual loss of ability to understand of express language (aphasia) and usually occurs in children between the ages of 3 and 7 years.
---
---
Impairments in the interaction between the central nervous system and the endocrine system can lead to a number of disorders in children. These include type 1 diabetes, growth disorders, adrenal thyroid and pituitary problems, Addison s disease and Cushing syndrome, among others.
---
---
---
A better understanding of neural activity and the development of cortical connections and networks is an important requirement for evaluating the cause and treatment of neonatal seizures.
---
---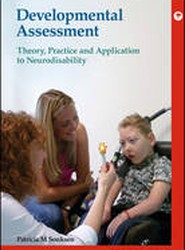 This handbook presents a new, practical and logical way of assessing development in preschool children that can be applied across the developmental spectrum. The reader is taught how to confirm whether development is typical and if it is not, is signposted to the likely nature and severity of impairments with a plan of action.
---
---
This comprehensive and authoritative book discusses the critical role of the utero-placenta in neurodisability, both at term and preterm. It examines aspects of fetal compromise and possible cerebro-protective interventions, recent evidence on fetal growth and mental illness, as well as cerebro-therapeutics.
---
---
Down syndrome remains the most common recognisable form of intellectual disability. The challenge for doctors today is how to capture the rapidly expanding body of scientific knowledge and devise models of care to meet the needs of individuals and their families.
---
---
Includes extensive discussion of tic disorders that occur alone or in other conditions such as ADHD and OCD and mood disorders. This will help clinicians to decide whether it is the tic or the disorder that is the most pressing problem.
---
---