Showing
10
of 19 results for
Ulcerative colitis and Crohn's disease, referred to collectively as inflammatory bowel disease (IBD), are chronic debilitating disorders. IBD, particularly Crohn's disease, is increasing everywhere, most notably in the Western world where about 1 in 200 people now has the condition.
---
---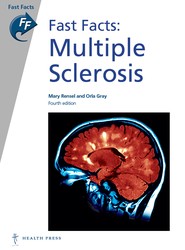 Since the last edition of this book, 'no evidence of disease activity' (NEDA) has been proposed as a new treatment target, early data on the first pharmacological treatments for progressive MS have emerged, and the first remyelination trial has shown positive effects on nerve repair.
---
---
Rapid developments in the classification, screening and treatment of non-small-cell lung cancer (NSCLC) are improving outcomes for patients with the disease. This insightful guide is designed to bring you up to speed with recent advances
---
---
With over 100 superb clinical and pathological images, this concise, practical handbook will ensure clear communication with respect to the clinical presentation, histopathology and immunophenotyping of early and advanced mycosis fungoides and its variants; Sezary syndrome; and other non-mycosis fungoides CTCLs.
---
---
Fast Facts: Early Breast Cancer provides a comprehensive overview of stage 0, I, II and IIIA disease, including the latest thinking on the risk of developing breast cancer and the value (or not) of screening, alongside the importance of clinical staging and triple assessment.
---
---
With the patient's experience at its core, Fast Facts: Parkinson's Disease takes the non-specialist through the patient's Parkinson's journey from unexplained prodromal symptoms to palliative support.
---
---
In Fast Facts: Smoking Cessation, you will find all the information you need on smoking, tobacco addiction and how best to treat the addiction.
---
---
Fast Facts: Chemotherapy-Induced Nausea and Vomiting presents the evidence for the clinical agents that can prevent CINV, along with the recommendations for their use in various clinical settings using recently established international guidelines.
---
---
A practical and accessible resource that considers current guidelines, investigations, interventions and pharmacological treatments in chronic obstructive pulmonary diease.
---
---
Fast Facts: Acne provides a concise overview of the clinical features of acne, reviews available treatments and advises on treatment selection with the implicit goal of minimizing the physical and emotional scarring associated with this challenging disease.
---
---