Showing
10
of 29 results for
Sketches the history of the belief that human beings are essentially their brains, and documents and critically discusses its contemporary forms across a range of contexts, including mental health, the human sciences, and literature and film.
---
---
---
Out of the Ordinary is the memoir of Dr. Michael Dillon / Lobzang Jivaka (1915-1962) who transitioned from female to male between 1939 and 1949, became a ship's surgeon in the (British) Merchant Navy, and was a monastic novice in the Tibetan Buddhist tradition when he died unexpectedly in 1962.
---
---
The essays collected here were presented at the workshop Plasticity and Pathology: History and Theory of Neural Subjects at the Doreen B. Townsend Center for the Humanities at the University of California, Berkeley.
---
---
This collection of essays explores the historical and theoretical dimensions of the contemporary neural subject. With a multidisciplinary perspective, the volume focuses attention on the important, but problematic notion of plasticity as a way of rethinking the relationship between human experience and both pathological and normal states of the nervous system.
---
---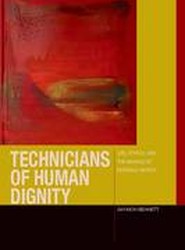 Tracks the development of the concept of human dignity in post-war ethics and politics, focusing on the Vatican, the United Nations, and U.S. Federal Bioethics.
---
---
Cytomegalovirus is a lucid and spare autobiographical narrative by Herve Guibert (1955-1991) of the everyday moments of his hospitalization due to complications of AIDS. In one of his last works, the acclaimed writer presents his struggle with the disease in terms that are unsentimental and deeply human.
---
---
Confidentiality and Its Discontents: Dilemmas of Privacy in Psychotherapy explores the human stories arising from the psychotherapist's dual allegiance to patient and society. These dilemmas include the hazards of publishing a case study without the patient's permission and the unexpected problems arising from the therapist functioning as a "double agent."
---
---
---