Showing
10
of 65 results for
On the basis of extensive input from multiple sources and perspectives, this volume develops clear guidelines that equip clinicians to navigate the special challenges they face. This edition has been thoroughly updated and is structured to flow from the foundational principles that govern the delivery of psychiatric care in correctional facilities.
---
---
FOCUS Psychiatry Review, Volume 2, DSM-5(R) Revised Edition, contains 400 board-type multiple-choice questions derived from material in the annual FOCUS examinations, which can help psychiatrists prepare for examinations and identify areas for further study. This edition has been updated for consistency with DSM-5(R).
---
---
La GuYa de consulta de los criterios diagn3/4sticos del DSM-5 es una ayuda concisa y asequible para la referencia psiquisstrica fundamental, el DSM-5. Incluye la clasificaci3/4n diagn3/4stica completa revisada, asY como todos los criterios diagn3/4sticos del DSM-5 en un formato fsscil de utilizar.
---
---
Presents a concise companion to the psychiatric reference, DSM-5[trademark]. This title includes the revised diagnostic classification, as well as all of the diagnostic criteria from DSM-5[trademark] in an easy-to-use paperback format.
---
---
The DSM-5(R) Repositionable Page Markers are designed to help you quickly and easily locate key information within DSM-5(R).
---
---
Health Care Reform: A Primer for Psychiatrists is a compilation of resources designed to educate psychiatrists and other mental health professionals about key elements of the reform law. Each article addresses a key question for the organization and financing of mental health and substance abuse care under health care reform.
---
---
Suitable for practicing psychiatrists who want to improve their knowledge of clinical psychiatry and patient care, this title helps them improve their clinical decision making, advance their communication and diagnostic abilities, evaluate their knowledge and clinical skills, learn leading-edge clinical information, and improve patient care.
---
---
---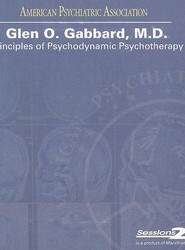 Dr. Glen O. Gabbard presents three lectures illustrated by slides and video vignettes of psychiatrist and patient. It demonstrate concepts in psychodynamic psychotherapy: basic therapeutic interventions; manifestations of transference, and conceptual framework regarding countertransference.
---
---
This book is the only clinical guide exclusively on the treatment of medical comorbidities among patients with schizophrenia. Like its best-selling predecessor, this new, expanded edition compiles the latest research and clinical information regarding the crucial task of integrating medical and psychiatric care for the schizophrenic patient.
---
---