Showing
10
of 90 results for
Assists occupational therapy practitioners in evaluating and treating frequently seen shoulder conditions and the associated effects on occupational performance. Includes step-by-step through the pathoanatomy of the shoulder and the evaluation of dysfunction around the scapulathoracic, glenohumeral, acromioclavicular, and sternoclavicular joints.
---
---
Updates, modifies, and adapts the Cognitive Orientation to daily Occupation (CO-OP) approach for specific occupational therapy populations using current evidence.
---
---
---
---
---
---
Provides occupational therapy practitioners and students with case studies to help promote ethical reflection and practice in their increasingly complex and varied professional roles. The authors present models and approaches for resolving ethical dilemmas and provide realistic case studies and vignettes to assist readers in identifying solutions.
---
---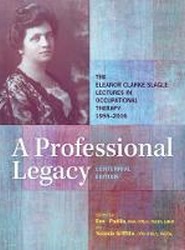 ---
Occupational therapy is an allied health profession with an underlying belief that engaging in occupations promotes both health and wellness. This comprehensive text lays the foundation for occupation-based practice and addresses the contextual issues of working within the acute care setting.
---
---
---