Showing
10
of 253 results for
This unique resource addresses the full spectrum of perinatal medicine from both the obstetric and pediatric standpoints. The new eighth edition gives you a single place to look for the most recent and trustworthy recommendations on quality care of pregnant women, their fetuses, and their neonates.
---
---
---
This handy guide summarizes each health supervision visit developmental observation, physical examination, medical screening, immunizations, and anticipatory guidance.
---
---
Consists of 80 questions on a wide range of topics in the field of adolescent medicine. Each question, along with the correct answer, is followed by a discussion of the pertinent topic, including why the correct answer is right and the incorrect answer is wrong.
---
---
An update of the revised Bright Futures Guidelines 3rd edition provides new and revised materials for health supervision to provide better health care, save time, and keep up with changes in family, communities, and society that impact child's health.
---
---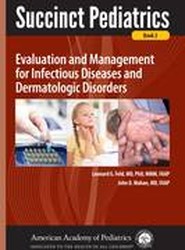 Making timely and accurate diagnoses and treatment recommendations requires rapid access to evidence-based information. Succinct Pediatrics addresses the topics of infectious diseases and dermatology in paediatric practice. It has the same straightforward design typified by short chapters supplemented with key figures and invaluable tables.
---
---
---
---
AM:STARs is the official publication of the AAP Section on Adolescent Health. Published three times per year, it offers adolescent specialists and primary care physicians with timely information on matters relating to adolescent health and wellness. This title features a discussion on obesity and diabetes in the adolescent.
---
---
Includes the most commonly reported CPT and ICE-10-CM codes. It can be used as a template to design an office superbill or as is.
---
---