MEDICAL EBOOKS
If you need your book in an instant, we have hundreds of specialist medical ebooks. Browse by subject and see all the latest digital content in your field. All our ebooks are available for download immediately after purchase and are compatible with most e readers.
Showing
10
of 5283 results for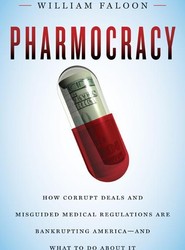 Our healthcare system is irretrievably broken, and now it is devastating the US financially. Pharmocracy uncovers egregious FDA incompetence and abuse, and shows how over-regulation causes lifesaving medications to be delayed or suppressed altogether, and makes consumers pay inflated prices for FDA-approved therapies that are only minimally effective and often dangerous. A free market approach to healthcare, Faloon argues, would spare Medicare and Medicaid from insolvency, while significantly improving the health of the American public.
---
---
---
---
---
How to Live a Healthy Life is an indispensable handbook which outlines the approach to health of one of the world's foremost homoeopaths, Jan de Vries. It gives sensible and easy-to-follow advice on a huge number of subjects, ranging from maintaining a healthy liver and building strong bones to how to follow a well-balanced and nutritious diet and cope with stress.
---
---
One in four people suffer from phobias, yet, they are the easiest psychological problem to treat. Psychologist and phobias expert Anthony Gunn has spent a lifetime helping people overcome their phobias, and has developed a simple, ten-step programme that anyone can do and which takes only 90 minutes. This includes:Anti-fainting exercisesDeep breathing techniquesRecognising and labelling phobic thoughtsLearning how to get through times of panic Fix Your Phobia in 90 Minutes is an easy-to-read and practical guide which will help you face and ultimately treat your phobia. It will also give you the confidence and skills to tackle other challenges in your life, such as job interviews, social interactions, parenting and business. Take charge now!
---
---
This is the handbook for every household and is published in direct response to public demand. In this volume Jan de Vries uses all of his vast wealth of experience to answer hundreds of questions which have consistently been asked of him over the years, from varicose veins to the use of vitamin E, headaches to verrucae, from air and water pollution to ME, candida and other present-day problems. The foreword to this invaluable, easy-to-use reference guide is by Dr Alfred Vogel, author of the million-selling Nature Doctor and himself mentor to Jan de Vries.
---
---
---
---
---