MEDICAL EBOOKS
If you need your book in an instant, we have hundreds of specialist medical ebooks. Browse by subject and see all the latest digital content in your field. All our ebooks are available for download immediately after purchase and are compatible with most e readers.
Showing
10
of 6484 results for
---
This portable clinical manual serves as a practical guide for inpatient psychiatric treatment, supported by charts, tables and clinical hints.
---
---
The Limits of Dream focuses on what we currently know of the human central nervous system (CNS), examining the basic sciences of neurochemisty, neuroanatomy, and CNS electrophysiology as these sciences apply to dream, then reaching beyond basic science to examine the cognitive science of dreaming including the processes of memory, the perceptual interface, and visual imagery. Building on what is known of intrapersonal CNS processing, the book steps outside the physical body to explore artificially created dreams and their use in filmmaking, art and story, as well as the role of dreaming in creative process and creative &quote;madness. The limits of our scientific knowledge of dream frame this window that can be used to explore the border between body and mind. What is known scientifically of the cognitive process of dreaming will lead the neuroscientist, the student of cognitive science, and the general reader down different paths than expected into an exploration of the fuzzy and complex horizon between mind and brain.* The clearest presentation of research and philosophy currently available relating to the mind/brain interface* Discusses the cognitive processes of dreaming utilized in film and artificial intelligence* Describes the functioning of dream in the creative process
---
---
---
Culture permeates human activity the world over. In today's technological &quote;global village,&quote; people from very different cultures are interacting more closely and more often than ever -- making it critical for clinicians to understand and incorporate cultural dimensions into their daily practices.This volume offers a contemporary pragmatic understanding of how culture is inextricably intertwined with mental health and mental illness. In Chapter 1, the 17-member GAP Committee on Cultural Psychiatry begins by discussing the history (particularly within the last two decades) and scope of culture in clinical psychiatry. In Chapter 2, the authors describe 11 selected cultural variables that strongly influence clinical work: ethnic identity, race, gender and sexual orientations, age, religion, migration and country of origin, socioeconomic status, acculturation and acculturative processes, language, dietary influences, and education. In Chapter 3, the authors present a brief history and detailed analysis of the Cultural Formulation, the newest instrument for ensuring thorough clinical assessments, explaining its clinical use based on DSM-IV guidelines.In Chapter 4, the authors integrate the 11 cultural variables described in Chapter 2 with the use of the Cultural Formulation described in Chapter 3, producing an extraordinary cross-section of case vignettes: ? How the son of Irish Catholic immigrants struggles to reconcile old-country traditions with life in modern American society? The sometimes painful and always complex process and outcomes of acculturation for a Pakistani Muslim family who had come to the United States for only a temporary period but ended up staying permanently? Diagnosing social phobia in an Asian American, whose traditional reticence must be viewed within the context of Asian culture ? Loss of country of origin and family ties as catalysts leading to significant behavioral changes and severe depressive symptoms in an African immigrant tribesman from Kenya and the cultural context of his recovery? The interplay of gender, age, and religion with developmental issues, personality organization, and symptom development for a &quote;good Catholic girl&quote; ? The existential, interpersonal, and clinical experiences of a Protestant minister from predominantly Catholic Ecuador, who came to the United States as pastor of an Hispanic church in a predominantly white city In Chapter 5, the authors conclude with a summary and suggestions regarding the complex issues raised by a thorough cultural assessment.Enhanced by a detailed index, this powerful work meets the significant -- and rapidly growing -- need for psychiatrists and other mental health professionals to understand the role of culture in psychiatry and to integrate this knowledge into their practice so that they can provide the most comprehensive and useful care to their patients.
---
---
Bipolar depression is now known to exist as a spectrum of disorders rather than a single disease entity. Bipolar II Disorder exists on this spectrum as a condition where the depressive episodes are as severe as in Bipolar I Disorder, but where the mood elevation states are not as extreme. This unexpected combination can lead to a failure to detect a condition thought to affect up to 6% of the population. This book reviews, for the first time, our knowledge of this debilitating disorder, covering its history, classification and neurobiology. In a unique section, fourteen internationally recognised experts debate management strategies, building to some consensus, and resulting in treatment guidelines where no such advice currently exists. It should be read by all health professionals managing mood disorders and will be informative to those wishing to learn more about the condition.
---
---
This book describes a framework for the provision of mental healthcare in a multi-cultural society.
---
---
This book, first published in 2007, focuses on the role of empathy in mental illness.
---
---
This book, first published in 2007, focuses on all facets of the psychotic depression, from clinical history to coverage of diagnostic and treatment protocols.
---
---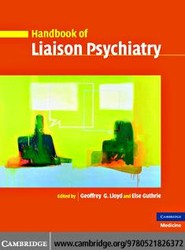 The Handbook of Liaison Psychiatry was first published in 2007 and is a comprehensive reference book for this fast-growing subspecialty.
---
---