MEDICAL EBOOKS
If you need your book in an instant, we have hundreds of specialist medical ebooks. Browse by subject and see all the latest digital content in your field. All our ebooks are available for download immediately after purchase and are compatible with most e readers.
Showing
10
of 968 results for
---
Blood substitutes are solutions designed for use in patients who need blood transfusions, but for whom whole blood is not available, or is not safe. This interest has intensified in the wake of the AIDS and hepatitis C epidemics. Blood Substitutes describes the rationale, current approaches, clinical efficacy, and design issues for all blood substitutes now in clinical trials. The many summary diagrams and tables help make the book accessible to readers such as surgeons and blood bankers, who have less technical expertise than the biochemists and hematologists who are designing and testing blood substitutes.* Includes chapters necessary to the understanding of blood substitutes, including history, toxicity, physiology, and clinical applications* Presents detailed descriptions of the various products that have been developed and have advanced to clinical trials, and some that are in earlier states of development
---
---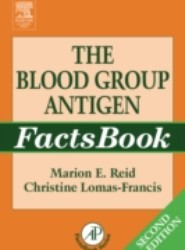 The second edition of The Blood Group Antigen FactsBook provides key information relating to human red blood cell membrane components carrying blood group antigens, the molecular basis of the antigens, their serological characteristics, and the clinical significance of blood group antibodies. The data on this group of molecules has expanded greatly since the previous edition was published five years ago. Topics include: history and information on terminology, expression, chromosomal assignment, carrier molecule description, molecular basis of antigens, effect of enzymes/chemicals, clinical significance, disease association, phenotypes, glycotypes and key references.Over 250 fully updated entries on blood group antigens, formatted on single pages for easy useInclusion of RHAG blood group system and over twenty new antigensBasic science paired with clinical applications to give context to informationFull-color illustrations, gene maps and chartsBoth traditional and ISBT-sanctioned naming conventions included
---
---
Structured to be a companion to the recently published Handbook of Transfusion Medicine, the Handbook of Pediatric Transfusion Medicine is dedicated to pediatric hematology-oncology and transfusion medicine, a field which remains ambiguous and which has generated few comprehensive texts. This book stands alone as one of the few texts that addresses transfusion issues specific to pediatric medicine. Written in an eminently readable style, this authoritative handbook is a requirement for any pediatric physician or caregiver.Neonatal and fetal immune response and in utero development issuesBlood compatability and pre-transfusion testing issues specific to pediatric and neonatal transfusionTherapeutic apheresis including red blood cell exchange and prophylactic chronic erythrocytapheresis for sickle cell patientsAlso includes a section that concentrates on the consent, quality and legal issues of blood transfusion and donation
---
---
Paroxysmal Nocturnal Hemoglobinuria (PNH) has been recognized for over a century. This mysterious disease is now understood at the level of the gene and the protein. The pathophysiology is related to a class of cell surface proteins with distinctive biochemical and physical characteristics. Recently it has been acknowledged that PNH is not rare, and once sensitive assays--based on the chemistry of the proteins--can be applied to many patients.Written by international experts in the field, this book includes a number of distinctive characteristics, such as the clinical features of PNH, the mechanism of hemolysis, the biochemistry of glycosylphosphoinositol anchors, and the chemistry and biophysics of GPI-anchored proteins.This unique and timely volume will have a wide audience, including hematologists and oncologists with a clinical interest in this disease, as well as basic biochemists, immunologists, and cell biologists studying this class of proteins.Outlines the chemical features of PNHExplains the mechanism of hemolysisIncludes work on the biochemistry of glycophosphoinositol anchorsContains descriptions of the chemistry and biophysics of GPI-anchored proteins
---
---
Entirely updated to reflect modern thinking and protocols, the Manual of Pediatric Hematology and Oncology provides concise information needed for the day-to-day management of children with pediatric hematologic and oncologic diseases. The clear style allows readers to make an accurate diagnosis and permits him/her to treat patients even if they have not had extensive previous hematologic or oncologic experience. Pertinent advances in molecular genetics, cytogenetics, immunology, transplantation and biochemistry are the result of 40 years of practical experience by the author in the management of patients and incorporates various contributors who have had extensive clinical experience.* Features numerous tables, flow diagrams, protocols, and algorithms for quick access of essential clinical information necessary for the diagnosis and management of these diseases in children* Designed as a concise, easy to use guide for medical students, residents, fellows, pediatric hematologists/oncologists, pediatric nurses and nurse practitioners* Much of the practical information contained in this manual is not found in standard textbooks* Straightforward style without any redundant words or references
---
---
Handbook of Transfusion Medicine is unique in that it provides a comprehensive and practical description of all blood products and blood cell types currently used in transfusions, their appropriate applications, pathophysiology of conditions managed by transfusion, and pathophysiology of adverse reactions. Each chapter follows a standard format including numerous tables and algorithms, with summary elements highlighted throughout by a second-color for quick reference.Sections Include:* Blood collection and testing* Blood component description* Preparation and usage* Red blood cell antigens and antibodies* Specialized component processing* Specialized transfusion situations* Transfusion-transmitted diseases* Transfusion reactions* Infectious complications of transfusion* Therapeutic apheresis and quality* Acute bleeding and massive transfusion* Transfusion of the patient with a coagulopathy* Transfusion of obstetrics, pediatric, immunocompromised, and platelet refractory patients* Up-to-date references to all aspects of transfusion medicine
---
---
This book is a centennial volume celebrating the enormous progress made in hematology in the 20th century. It is edited by Marshall Lichtman, a distinguished senior hematologist, past president of the American Society of Hematology, and co-editor of the leading text in the field. Hematology is a compendium, with commentaries, of the most important papers published in the field from 1900-1999. The book will be useful for reference--many of the older papers can no longer be found in most libraries, yet are still referred to in current publications, especially review articles--as well as teaching.The Editor and a team of associate editors have included the most important papers covering eight categories: anemia; phagocytic cells; platelets; coagulation and thrombosis; lymphocytes and immune disorders; transfusion medicine; hematologic malignancies and therapeutics; and laboratory developments. Each paper is accompanied by a 1-2 page commentary explaining its impact, and references to the developments that resulted.Key Features* Contains 86 landmark articles from the last 100 years of research in clinical hematology* Includes expert commentaries discussing the impact of each article* Cites approximately 1000 preceding or subsequent articles of consequence in the commentaries* Includes the English translations of nine articles originally published in other languages* Provides easy access to several papers that may no longer be found in libraries
---
---
This book provides comprehensive up-to-date information on the structure and function of immunoglobulins. It describes the basic features of these molecules, which assists the reader in understanding how they function as an integral part of the immune system. The Immunoglobulins describes the localization and structure of different binding sites of immunoglobulin molecules, including the antigen-binding site, on the basis of latest x-ray crystallography studies. It discusses recently developed biotechnological methods that allow scientists to obtain fully active antibody molecules in vitro even without immunization and to construct new variants of immunoglobulins and their fragments by fusing with various other active molecules. A survey of recent knowledge on immunoglobulin-binding molecules other than antigens and on flexibility of immunoglobulin molecules concludes the discussion of functional aspects of the problem.Describes recent reviews on the structure and function of immunoglobulin molecules of various speciesSummarizes in detail recent findings on the fine structure of the antigen-combining sitePresents comparative data on the antigen-recognizing sites of other molecules such as MHC proteins and T-cell receptorsSummarizes growing data on immunoglobulin binding sites responsible for the reaction of immunoglobulins with molecules other than antigensExplores the rapid advance of recent biotechnological methods used for the construction of antibody molecules and their fragments with new propertiesPresents extensive references and is lavishly illustrated
---
---
Platelets have long been the subject of much investigation in the areas of vascular physiology, biochemistry, immunology and physiopathology. Their ability to react to environmental stimuli, to modify their shape and metabolism despite being anuclear, has fascinated scientists.This volume looks specifically at the involvement of blood platelets outside their 'classical' field of application, in the physiopathological mechanics of allergy and inflammation. The coverage includes the role of platelets in bacterial, parasitic and viral diseases and in tumour cell interactions.
---
---