MEDICAL EBOOKS
If you need your book in an instant, we have hundreds of specialist medical ebooks. Browse by subject and see all the latest digital content in your field. All our ebooks are available for download immediately after purchase and are compatible with most e readers.
Showing
10
of 1368 results for
---
The third edition of this bestselling text will again provide the latest coverage of the biochemistry and physiology of vitamins and vitamin-like substances. Extensively revised and expanded on the basis of recent research findings with enlarged coverage of health effects of vitamin-like factors, it is ideally suited for students and an important reference for anyone interested in nutrition, food science, animal science or endocrinology. It contains a cohesive and well-organized presentation of each of the vitamins, as well as the history of their discoveries and current information about their roles in nutrition and health.NEW TO THIS EDITION:*Includes approximately 30% new material*Substantial updates have been made to chapters on vitamins A, C, E, K, folate, and the quasi-vitamins*Provides checklists of systems affected by vitamin deficiencies and food sources of vitamins*Key concepts, learning objectives, vocabulary,case studies, study questions and additional reading lists are included making this ideally suited for students* Thoroughly updated with important recent research results, including citations to key reports, many added tables and several new figures. *Addition of Health and Nutrition Examination Survey (HANES III) data*Updated Dietary Reference Values
---
---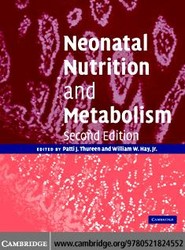 First published in 2006, this is an account of the basic science, metabolism, nutritional requirements and clinical management of the neonate.
---
---
---
---
Identifies and addresses relevant issues in the field of nutritional genomics. This book provides a world-wide perspective on the potential impact of nutrigenomics on our association with food. It explores the impact of nutrigenomics on the relationship to food medicalization, genetic privacy, nutrition and health.
---
---
Synthesizes research on the topic of human aging and longevity particularly on the theories of inflammation and its effects on human health. The book expands on theories, including the Barker theory of fetal origins of adult disease to consider the role of inflammation and Harmon's free radical theory of aging to include inflammatory damage.
---
---