An easy to digest guide to conditioning, injury prevention and management of sport horses, that has not been previously available.
---
---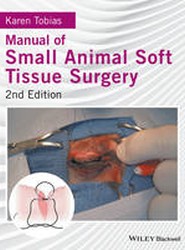 Manual of Small Animal Soft Tissue Surgery, Second Edition is an updated edition of the popular and highly visual, step-by-step guide to common surgical procedures, including tips and tricks on how to perform surgery faster and easier, written by a highly respected soft tissue surgeon.
---
---
As a holistic veterinarian and scientist, Gary Richter helps dog and cat owners to navigate the thicket of treatment options and separate the fact from the fiction. He wants us to use what actually works, not just what Western science or alternative medicine say 'should' work. This multifaceted approach to health is known as integrative medicine.
---
---
Now in its Fifth Edition, Functional Anatomy and Physiology of Domestic Animals provides a basic understanding of domestic animal anatomy and physiology, taking an interconnected approach to structure and function of the horse, dog, cat, cow, sheep, goat, pig, and chicken.
---
---
Veterinarians serve on the front lines working to prevent animal suffering and abuse. For centuries, their compassion and expertise have improved the quality of life and death for animals in their care. However, modern interest in animal rights has led more and more people to ask questions about the ethical considerations that lie behind common veterinary practices. This Common Threads volume, drawn from articles originally published in the Journal of Animal Ethics (JAE), offers veterinarians and other interested readers a primer on key issues in the field. Essays in the first section discuss aspects of veterinary oaths, how advances in animal cognition science factor into current ethical debates, and the rise of complementary and alternative veterinary medicine and its relationship to traditional veterinary medicine. The second section continues with an essay that addresses why veterinarians have an obligation to educate animal caregivers to look past "cuteness" in order to treat all animals with dignity. The collection closes with three short sections focusing on animals in farming, trade, and research "areas where veterinarians encounter conflicts between their job and their duty to advocate and care for animals. Contributors: Judith Benz-Schwarzburg, Vanessa Carli Bones, Grace Clement, Simon Coghlan, Priscilla N. Cohn, Mark J. Estren, Elisa Galgut, Eleonora Gullone, Matthew C. Halteman, Andrew Knight, Drew Leder, Andrew Linzey, Clair Linzey, Kay Peggs, Megan Schommer, Clifford Warwick, and James W. Yeates.
---
---
---
Equine Color Genetics, Fourth Edition presents a detailed examination of the color variation in horses and donkeys and the genetic mechanisms that produce color variations.
---
---
---
Treatment and Care of the Geriatric Veterinary Patient offers veterinarians a complete guide to treating and managing geriatric canine and feline patients.
---
---
---