---
Overcome anorexia for good by building emotional tools such as self-confidence, acceptance and motivation which will empower you to stay in control of your health. The exercises and activities in these pages encourage you to engage a positive mindset in order to achieve long-term wellbeing.
---
---
Fat Planet represents a collaborative effort to consider at a global scale what fat stigma is and what it does to people.
---
---
"Packed with information that is useful on a daily basis. This book will be useful for all who care for children with disabilities or chronic disase." —Journal of Parental and Enteral Nutrition This fully revised and updated edition of PEDIATRIC AND ADULT NUTRITION IN CHRONIC DISEASES, DEVELOPMENTAL DISABILITIES, AND HEREDITARY METABOLIC DISORDERS offers a comprehensive reference to the nutritional interventions for diseases across the lifespan. Comprising more than 60 topic-based chapters from leading figures in nutrition and medicine, this book is the most up-to-date work on diet as a symptom of, and therapy for, chronic, hereditary, and developmental disorders.
---
---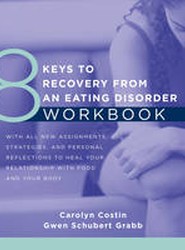 Readers are walked through strategies by a therapist and her former patient.
---
---
---
---
Raising important questions about obesity, Toomath sidesteps the standard sound bites and puts an end to the myth of personal responsibility for body size by focusing on the environment all around us.
---
---
'I know how anorexia makes you feel: you think she is your friend, you think she can solve everything and make you feel amazing ... But she will destroy you and everything around you, piece by piece.' - Hope Virgo.
---
---
Lizzie McNaught was diagnosed with Anorexia at the age of 14. However through professional help, the support of her loving family and her faith, she somehow found the hope and strength to overcome. Life Hurts tells her story, reflecting on it from her perspective as a doctor.
---
---