Navigating Life with Amyotrophic Lateral Sclerosis provides accessible, comprehensive, and up-to-date information about the challenges patients, family members, and caregivers face when confronted by ALS. This guide covers all aspects of managing ALS, from the onset of symptoms, diagnosis, treatments, and coping strategies, to the use of home health care or hospice, and new research in the field. The book also sheds lights on difficult topics, such as end-of-life care and managing legal affairs. Formatted in a question-and-answer style, peppered throughout with patient stories, and with sections devoted to family members and caregivers, this compassionate resource provides guidance to those seeking to understand how to live with this disease.
---
---
Completely updated for 2017, Fundamentals of HIV Medicine is a comprehensive clinical care publication for the treatment of HIV/AIDS. Published by the American Academy of HIV Medicine, the book offers physicians, pharmacists, nurse practitioners, and other care providers the most up-to-date overview of the latest HIV treatments and guidelines plus online access to CME.
---
---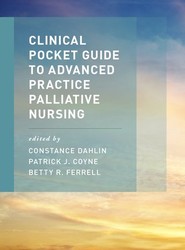 The Clinical Pocket Guide to Advanced Practice Palliative Nursing is a companion guide to Advanced Practice Palliative Nursing, the first text devoted to advanced practice nursing care of the seriously ill and dying. Each chapter presents point-of-care guidance on palliative care issues for quick reference in daily practice. Containing clinical pearls developed from the textbook and practical tools on key points in palliative care, this guide is an ideal resource for practicing APNs.
---
---
A case-based approach to the intensive care medicine curriculum, with 48 case studies linking core knowledge to clinical context.
---
---
Living in Death's Shadow is essential reading for everyone seeking to understand what it means to live with someone suffering from a chronic, fatal condition, including cancer, AIDS, Alzheimer's, and heart disease.
---
---
Caring Matters Most is a compact, highly readable book that explores the ethical nature of daily nursing practice and gives readers a path for being better nurses through the cultivation of five habits: trustworthiness, imagination, beauty, space, and presence. This book is an ideal resource for academic or practicing nurses interested in healthcare ethics or philosophy.
---
---
---
---