Provides a contemporary, comprehensive exploration of the theory and technique of psychoanalytically oriented play therapy, reflecting recent shifts in psychoanalytic theory and incorporating relevant information from neighbouring fields. Throughout, a variety of clinical vignettes illustrate childhood behaviors, common dilemmas, and potential therapist responses.
---
---
---
---
---
Driving simulators can detect driving impairments for medically at-risk drivers of all ages and assist in functional rehabilitation. This work provides knowledge, practical guidance, and current evidence on the appropriate use of simulators. Chapters highlight driving performance issues for clients with disabilities across the lifespan and how certain conditions adversely affect driving performance.
---
---
In occupational therapy practice, well designed groups represent social and cultural contexts for occupational performance in everyday life. Group Dynamics in Occupational Therapy, the best-selling text for over 21 years by Marilyn B. Cole, offers strategies and learning tools to place clients in effective groups for enhanced therapeutic interventions.
---
---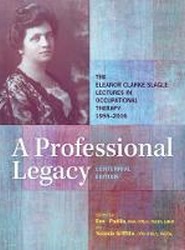 ---
Occupational therapy is an allied health profession with an underlying belief that engaging in occupations promotes both health and wellness. This comprehensive text lays the foundation for occupation-based practice and addresses the contextual issues of working within the acute care setting.
---
---
Trauma-sensitive yoga is a body-based intervention for treating emotional responses to trauma and post-traumatic stress disorder. This book explains why yoga is a useful approach for trauma therapy and shows how to use this method in one-to-one and group settings. It also includes useful examples of non-triggering asanas and breathing exercises.
---
---