This book illustrates applications of mathematics to various processes (physiological or artificial) involving flowing blood, including hemorheology, microcirculation, coagulation, kidney filtration and dialysis, offering a historical overview of each topic.
---
---
---
---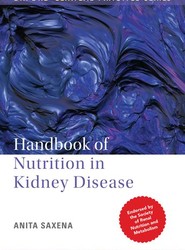 The handbook is a compilation of theoretical and practical approaches to manage malnutrition in kidney diseases. Providing international guidelines, dietary recommendations, and sample diet charts, it will aid nephrologists, clinicians, and dieticians in providing better care and managing cases of malnutrition in renal diseases efficiently. The handbook also addresses concerns that bother patients the most and the various myths about kidney diseases.
---
---
---
This book serves as a concise guide to urinary stone disease, providing simplified and complete information about the topic area.
---
---
Several of these phenotypes are well known and well described in the literature, such as prehypertension, white coat and masked hypertension, isolated systolic hypertension, renovascular hypertension, endocrine hypertension, pediatric hypertension, and gestational hypertension.
---
---
This volume focuses on those rare congenital or acquired kidney pathologies that are localized in only one part of the organ, while the rest of the organ remains unaffected.
---
---