Several of these phenotypes are well known and well described in the literature, such as prehypertension, white coat and masked hypertension, isolated systolic hypertension, renovascular hypertension, endocrine hypertension, pediatric hypertension, and gestational hypertension.
---
---
This volume focuses on those rare congenital or acquired kidney pathologies that are localized in only one part of the organ, while the rest of the organ remains unaffected.
---
---
---
This book details fluid, electrolyte and acid-base disorders encountered in clinical practice. Each chapter begins with pertinent basic physiology followed by its clinical disorder. Includes board-type questions with explanations for each clinical disorder.
---
---
For more than 40 years, this well-regarded reference has bridged the gap between basic and clinical sciences for the many disorders associated with electrolyte imbalances and kidney dysfunction. Authoritative and easy to read, the eighth edition has been thoroughly updated by experts in the field to reflect recent developments in renal pathophysiology.  Each chapter first introduces normal physiology, then covers each disorder's clinical features, diagnosis, and treatment.  Helpful diagrams, algorithms, and tables further explain the complex concepts.
 
---
---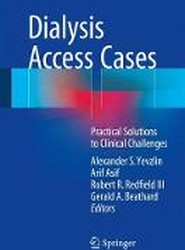 Published July, 2017
By
Arif Asif
,
Gerald A. Beathard
,
Alexander S. Yevzlin
,
Arif Asif, MD, FASN, FNKF
,
Robert R. Redfield III
,
Gerald A. Beathard, M.D., Ph.D., FASN
and
Robert R. Redfield
Publisher:
Springer
(
Springer International Publishing AG
)
Rating:
in-stock
hghg
---
---
This third edition of Pediatric Uroradiology has been thoroughly updated to take account of the recent advances in the imaging and treatment of pediatric nephro-urologic disorders that have been achieved over the past years.
---
---
The Oxford Handbook of Clinical Medicine, a peerless classic in the field, returns for a tenth edition. Thoroughly updated in line with current guidelines, this pocket-friendly book continues to be a truly indispensable companion for the practice of modern medicine.
---
---